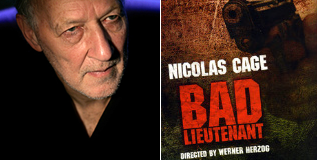 Is there distribution hope for Werner Herzog's "Bad Lieutenant" or was there hope all along and we've just been too damn impatient?

In February it was reported the the film still had no U.S. distribution (or any at all?) and Herzog had already moved on to shoot the David Lynch-produced lo-fi horror, "My Son, My Son, What Have Ye Done?"

Call us crazy, but this worried us, however, news now comes from the trades that say 'Lieutenant' has a shot at premiering at the Cannes 2009 Film Festival (though whether it plays in competition seems to be doubtful).

Herzog recently talked to the U.K. Guardian about the film. Why take on this remake re-imagining of what he has called a "film noir" now? Apparently because he had assurances this wasn't going to be anything like Abel Ferrara's original with Harvey Keitel.

"I was assured [by the producers] that this was not related to another film of a similar name. I told them, 'If you swear on the heads of your children.' I also had hints from Nicolas Cage that he wouldn't sign unless he knew I was directing, which is a good way to start a film."

Every production is shooting in New Orleans these days because of tax breaks (the film was once, maybe still titled, "Bad Lieutenant: Port of Call New Orleans") and 'Lieutenant' was no different.

"The producers were adamant about New Orleans because of tax incentive. It appealed to me because, after Katrina, you were in a situation where civil life came to a breakdown. Not merely because the hurricane caused a lot of material destruction, but it also created a collapse of civility - looting and, by the way, the police were heavily involved in that, too. This basic situation I found fascinating - way beyond the tax incentives, of course."

Herzog also clarified that his aforementioned next project, 'My Son' -- which stars Michael Shannon, Willem Dafoe, Chloe Sevigny, Michael Pena and Grace Zabriskie -- is "sort of a horror movie." It's interesting that modern auteurs like he and Lars Von Trier are breathing new life into this stale and generally cheap genre. Look for them both to subvert it in interesting ways.

Meanwhile, "Bad Lieutenant" also stars Xzibit, Eva Mendes and Val Kilmer and will hit theaters... sometime in 2009?