We were at the Independent Film Festival of Boston this weekend and had a pretty excellent time. The festival was well curated. An awesome little line-up, the Documentary Shorts 3 program featured four, economic and concise statements of each subject. Ranging from about 4 minutes to about 40, each film knew exactly how much time their subject needed and none overstayed their welcome. One in particular that struck us was Brooklyn director Sean Dunne's "The Archive," about Paul Mawhinney, a man you may have heard about recently as he's the owner of the world's biggest record collection.

Mawhinney is a 69-year-old Pittsburgh native who has diabetes is now legally blind and also happens to own the world's largest collection which you might have heard about. When his store Record Rama went out of business, the collecting enthusiast made headlines in February of last year when he attempted to sell it off -- 3 million albums, 300, 000 CDs on Ebay for $3 million dollars. The DailySwarm covered this rather well.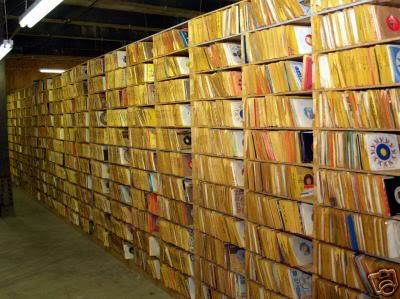 Not only did the Ebay listing make the news, but its relatively swift sale did too, until it was revealed as a hoax (some person left their Ebay account logged on in a library and an idiot took advantage of the situation and thought it would be funny if he bought the massive collection (which includes 1 million singles too) on some other saps dime, according to the director. Well shot, the eight minute short quickly documents, Mawhinney's relationship to the store, to the music and his bitter laments about how no one seems interested in buying what is an important musicological gold mine (his collection has been appraised at being worth about $50 million and about 83% of it is not readily commercially available to the public). We honestly think there's more to tell with this story, a longer doc, a follow-up doc, a narrative based on the collector? He's a strangely fascinating and embittered man.

Not from this documentarian. We asked Dunne in the Q&A if he planned to stick with this story at all and he said he was more than ready to move on, suggesting his subject was rather difficult (though he did allude to the possibilities of a follow-up should the collection actually be sold; it could take 3-4 months to move it). "The Archive" ends with Mawhinney intently listening to John Miles' "Music," and then quietly weeping, as if to mourn the death of music itself, now that the inability to sell the collection apparently suggests how its value has intrinsically been devalued and how people just no longer care. Or at least, this is how Mawhinney would like you to feel. The reality is is someone could even afford to buy the collection, he/she would probably need to spend monthly thousands on the space and rent to house it. It's a sad, tragic state of affairs either way though and it's a compelling little portrait.

Dunne also told The Playlist that Mawhinney actually "owns the songs from the film. He owns 7 record labels and allowed us to use whatever we wanted," aside from one track that they didn't clear which we won't mention in case someone tries to hit him with a C&D (which they shouldn't, it's a little eight minute doc, there's not a lot, or any profit to be made). As of this writing, Mawhinney has actually lowered his asking price to half a million dollars (remember its valued at $50 million).

Here's all the great music featured in the film and the full documentary, "The Archive" is below for your viewing pleasure.
The Shades - "Skip It"
Bumble Bees - "Echo Boogie"
Silvertones - "Thinking of You"
John Miles - "Music"