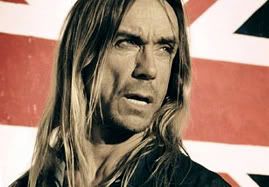 The history of the Iggy Pop biopic (once titled "The Passenger") that was reportedly set to star Elijah Wood starts like this:
- In 2006 Pop (née James Osterberg) evidently endorsed and approved the casting of Wood in the intended biopic of his life and the Stooges. Back then he called the script, "no chopped liver."
- In June 2007 he started to show signs of frustration claiming the producers had no agreement with him yet and saying they had "big mouths and keep jumping the gun."
- In July 2007, the diminutive rock star rescinded his endorsement of the entire project and said of the producers who were keen to make it: "Frankly I wish they'd both fuck off and leave their biopics."
- On another note, Nick Gomez ("Drowning Mona") was apparently once set to direct.

In keeping with his disenfranchisement with the project, Pop, when asked at a recent press conference if the biopic was moving forward, basically said: not while I'm alive.

"I don't think so. I reacted bad. It opens with my mother and father worrying about me. My father was alive at the time and it felt like an intrusion. They can wait for me to be dead. Fuck you, I won't do your biopic promo."

Think of it this way: Frodo freaking out on stage, rolling in glass all bloody and flaunting his emaciated butt cheeks? Face it, we dodged a bullet. We should all be thankful.