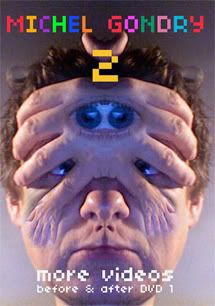 As we reported last year, Michel Gondry launched a new website and announced plans for a DVD called, "Gondry 2: More Videos" which would act as an unaffiliated part two to his Director's Label video DVD collection, "The Work of Director Michel Gondry" that came out in 2003.

The Director's Label series -- which was co-owned by Gondry -- looks dead (according to a brief email interview we did with series creator Richard Brown in 2007), so it seems that the fanciful French director struck out on his own to collate his second disc of music videos.

The 2nd collection of videos, now titled, "Michel Gondry 2: More Videos Before & After DVD 1," is available starting April 14 on the director's website and features videos from Beck's "Cellphone's Dead," The White Stripes "The Denial Twist" (which featured Conan O'Brien) Björk's "Declare Independence," and Radiohead's "Knives Out," – a video that the band themselves hated at the time and denied its use on the original Director's Label DVD.

"I showed [Thom Yorke] a storyboard and every single detail: he was completely excited and happy for it - and then, it turned out, they all criticize me for being selfish and putting my own views on it and my own introspection," Gondry said, peeved in a 2004 interview. "And they didn't let me use my video for my DVD! And I'm really mad at them for having done that to me, that they abuse their power! It did not go smooth, but if it went smooth, it would be mediocre."

Here's the entire tracklist of music videos. Pitchfork has a list of 2nd dvd goodies which include clips you've seen on YouTube, like Gondry solving a Rubik's Cube with his feet and more.

01 Michael Andrews [ft. Gary Jules]: "Mad World"
02 Paul McCartney: "Dance Tonight" *
03 Thomas Dolby: "Close But No Cigar"
04 Björk: "Declare Independence" *
05 Steriogram: "Walkie Talkie Man" *
06 The Willowz: "I Wonder"
07 Beck: "Cellphone's Dead" *
08 The White Stripes: "The Denial Twist" *
09 Donald Fagen: "Snowbound"
10 Cody ChesnuTT: "King of the Game"
11 Sinead O'Connor: "Fire On Babylon"
12 Queen [ft. Wyclef Jean, Pras and Free]: "Another One Bites the Dust"
13 Radiohead: "Knives Out" *
14 Dick Annegarn: "Soleil du Soir"
15 Sananda Maitreya: "She Kissed Me"
16 Sheryl Crow: "A Change Would Do You Good"
17 The Black Crowes: "High Head Blues"
18 Leafbirds: "It Can All Be Taken Away"
19 The Rolling Stones: "Gimme Shelter"
20 Energy Orchard: "How the West Was Won"

Here's the Radiohead video in question

Beck's "Cellphone's Dead"

The White Stripes' "Denial Twist"