A few weeks before "Adventureland" hit theaters director Greg Mottola was kind enough to give us a rundown of most of the music in the film with his comments on why he chose each track. It was a pretty awesome feature and something we hope to do with a lot more pop-soaked films. However, there was actually more music. The '80s college rock/indie-rock inflected soundtrack disc itself features 14 tracks, but there's actually 44 songs that are not score used in the film. That's a ton of music (hats off to the music supe) and to Mottola's credit, "Adventureland" is not the overwrought music montage nostalgia fest it could have been in the wrong hands. Most of the music is diegetic, and like the film itself, most of the songs are used in understated manners (The Cure's "Just Like Heaven" bumper car sequence is probably the pic's biggest music/movie moment and it's actually quite romantically thrilling; though the Rolling Stones' brief "Tops" introduction to the character Lisa P is pretty awesome too).

And if you're looking for even more recommendations in a similar vein, Mottola's Itunes playlist acts as a veritable part two to the existing "Adventureland" soundtrack featuring songs like Devotcka's cover of The Velvet Underground's "Venus In Furs," The The's "This Is The Day," Big Star's "Motel Blues," Dinosaur Jr.'s "Freak Scene" and our personal favorite, an acoustic version of Yo La Tengo's "Cherry Chapstick" (the New Jersey indie-rock trio composed the score and full disclosure, we didn't even know an acoustic version of this track existed, so choice).



Anyhow, if you'd ever like to make your own full "Adventureland" playlist. Here's all 41 songs featured in the film.

Bastards Of Young - The Replacements
West Beirut - Civilian Fun Group
Here She Comes Now - The Velvet Underground
Down To Rio - Daniel May
Funiculi, Funicula -Bob Stuhmer
Modern Love - David Bowie
Rock Me Amadeus - Falco
Don't Want To Know If You Are Lonely - Husker Du
Looking For A Kiss - New York Dolls
Pleasure Dog - Civilian Fun Group
I'm In Love With A Girl - Big Star
Taste Of Cindy (Acoustic Version) - Jesus & Mary Chain
Tops - The Rolling Stones
Hot Blooded - Louis Grammatico (Foreigner)
Pale Blue Eyes - The Velvet Underground
So It Goes- Nick Lowe
I Need To Know - Rodney Saulsberry
-The Caissons - 5 Alarm Music
Don't Dream It's Over - Crowded House
Let The Music Play - Shannon
I Want Action - Poison
Satellite Of Love - Lou Reed
Point Of No Return - Expose
Obsession - Animotion
Girls In The City - Jamison Rotz
Just One Girl - Chris Carlisle
Your Love - The Outfield
America The Beautiful - Bob Stuhmer
Libiamo (La Traviata) - DeWolfe Music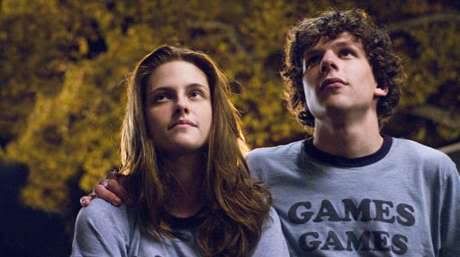 In The Ether - Black Swan Lane
Just Like Heaven - The Cure
Breaking The Law - Judas Priest
Dance Hall Days - Wang Chung
Waltz Of The Flowers - Bob Stuhmer
What Do You Got Against Love - Sarah Taylor
In My House - Mary Jane Girls
Hearts Collide - Rob E C
Limelight - Rush
Here I Go Again - Whitesnake
American Patrol March - Bob Stuhmer
Pale Blue Eyes - The Velvet Underground
Unsatisfied - The Replacements
Adventureland Theme Song - Ian Berkowitz
Don't Change - INXS

FYI, there seems to be an issue with the disappearance of the INXS song in some prints of the film. We hope Miramax and the director get that resolved.