Hot on the heels of the just-released trailer for this summer's "Harry Potter & the Half-Blood Prince" (below, we didn't race for it obviously) , MTV's Movie Blog is reporting that David Yates, director of "Order of the Phoenix," 'Half-Blood Prince, and the two-part 'Deathly Hollows,' plans on using the original actors for the coda to 'Deathly Hollows.'

"We will shoot it," producer David Heyman tersley told MTV.

In the epilogue to the final book, it flashes forwards several years and we see - SPOILER - the surviving characters all grown up (awww – yeah, it wasn't exactly my favorite part of the book either). Some of the characters are married, have children, etc. So it's kind of a surprise that the production team is using the original cast members, some of whom look like they've barely aged since the first movie.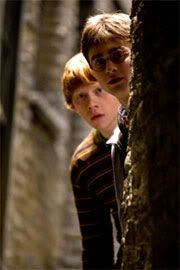 On one hand, it makes sense – we don't think any rabid Harry Potter fan would want their final filmic glimpse of these characters to be replaced by somebody else, "Green Mile"-style, but it also leaves the question of HOW they'll accomplish that…

Will they:
A.) Use questionable old-man makeup in an attempt to advance the actors' year?
B.) Use questionable digital makeup effects, a la Benjamin Button, to advance the actors' years?
C.) Say "fuck it," and just put them in more dowdy clothing?

Considering the first half of' The Deathly Hollows' comes out in November 2010 and the final half doesn't hit theaters until July 2011, I'm sure we'll get the answer sooner or later.

"Harry Potter and the Half-Blood Prince," which thankfully doesn't look as BBC miniseries-y as the last Yates yarn, hits theaters July 15th in IMAX and traditional theaters. - Drew Taylor