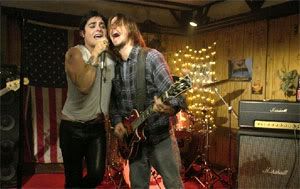 A host of images and info about the rock/roadtrip film, "The Perfect Age Of Rock 'N' Roll" are now available on the official website.

It informs us that the film will boast music by, among others, Nirvana, Alice In Chains, Bob Dylan and Jane's Addiction, The Stooges, Donovan. Odd that such a small-looking film could get the budget for these songs. Do they perhaps mean covers?


Who knows, the music industry is in such a bind currently, music licensing is a steal these days. Filmmakers with a penchant for music should take note.

The Synopsis

: A pair of longtime friends channel their talent and passion for music into a cross-country road trip that brings them face to face with their past, present, and future. 
A world famous musician, whose debut album is a huge hit, retreats to his hometown after his sophomore effort flops. There he reconnects with his long lost best friend and fellow musician, the son of a punk rock guitar legend, who became a middle school music teacher. The reunion forces the two to recall their youthful ambitions and reexamine the choices they've made. Accompanied by a raucous crew of musicians, they set off on a cathartic journey along historic Route 66 that brings them closer to each other, their history and their destiny.
The film features Peter Fonda, Lukas Haas, Jason

Ritter

, Lauren Holly, Taryn Manning and stars Kevin

Zegers

. From what we can gather, the band in the film is called the Lost

Soulz

and the original music in the film is written by Steve

Conte

& Andrew Hollander

 (if it's the same music playing on the site, it doesn't sound great to be honest)

.

We've honestly never even heard of the film before but it will make it's premiere at the Newport Beach Film Festival this Saturday, April 25.