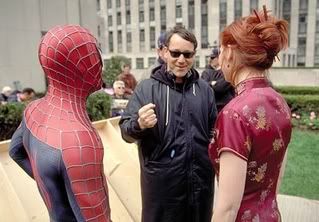 Pop quiz: who directed "Spider-Man 3"? If you guessed Sam Raimi, a certain "Evil Dead" director would like to clarify just exactly who was the main creative force on the film. Several websites are buzzing about Raimi's guarded comments in an Empire interview, where he claimed to not be completely in control regarding "Spider-Man 3." Quoth Empire:

"They really gave me a tremendous amount of control on the first two films, actually. But then there were different opinions on the third film and I didn't really have creative control, so to speak."

Raimi was present for all decisions, and after guiding the franchise towards a billion dollar gross with only two films, he should be able to throw some weight around, no?. One can't help but think that Raimi, an old school Spider-Man fan who had previously spoke ill of "Spider-Man 3" villain Venom, was more hyped up for the project's original incarnation, a plan to film the third and fourth films back to back with the Sandman and Vulture (Ben Kinglsey was in talks) as the villains.

On the other hand, we've seen how these blockbuster franchises work, where directors and screenwriters routinely get treated like workmen-for-hire. It's at least reassuring he can admit the inherent flaws of 'SP3.'

Raimi claims screenwriter David Lindsay-Abaire will finish a draft for "Spider-Man 4" this summer. He's previously weighed in on his appreciation of Marvel fringe antihero Morbius, though reportedly Mickey Rourke was considered for a role in the fourth film as well- considering Rourke's resemblance to animal tracker Kraven, its likely the film will feature some permutation of Morbius, Kraven, the Vulture and Dr. Curt Connors, played by Dylan Baker in previous films and likely to complete his comic book-anointed transformation into the Lizard.