Presidential candidates, and politicians in general, are typically very well informed, secured and protected people but, in the case of senator Ron Paul, something seems to have gone awry.

Congressman Paul was reportedly tricked into an interview with Sacha Baron Cohen and is set to feature in a five minute scene in Cohen's upcoming film, "Brüno." The scene apparently features Cohen's Bruno character attempting to seduce the senator in a Washington hotel room where Paul was led after excuses regarding malfunctioning studio equipment was made by producers.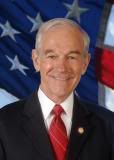 "I was expecting an interview on Austrian politics," Paul later explained in an interview available at Huffington Post. "Why in the world didn't I sock the guy in the nose?" A spokeswoman for Paul also confirmed the appearance but, of course, did not disclose any further information.

"Brüno" was recently slammed with an NC-17 rating (some say to generate buzz) but is being edited and smoothed-over for the desired R rating. Any cut footage, though, will likely see a release on DVD according to the Variety, who have chimed in on the NC-17 story what seems like a decade later. The film see a release on July 20th.

This is probably one of our favorite "Brüno" clips from the original "Da Ali G" show whence it came. If masculinity becomes hyper masculinity, does it bring it round full-circle to full-blown gay? Brilliant.