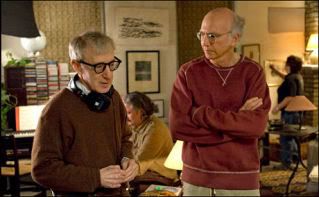 The Tribeca Film Festival kicked off yesterday ("leaner and meaner" if you haven't read 10,000 times already, #lemmings), just as we're going to IFFBoston tomorrow! Great timing! We don't want to regurge too much (our picks are basically right here, and yes, they're obvious!), but MTV has a clip from Woody Allen's "Whatever Works" that we thought we'd post.

The film screened last night and Variety already weighed in (via Jeff Wells)


"My real problem with Whatever Works was the older-man-younger-woman theme, which has never been one of my favorite Woody motifs, even before it gained a real-life parallel. (Manhattan is a great film, but the Mariel Hemingway relationship is creepy and condescending, and I don't just say that as a father of an almost-teenage daughter.) Going back to Alvy and Annie, the romances in Allen's films often have a teacher-pupil quality, too, and in Whatever Works we get that as well as the December-May thing.

"But here, Allen doesn't even bother to make the relationship between Larry David's and Evan Rachel Woods's characters credible. Aside from her being hot, the attraction makes no sense: She's a moron and he's hateful."
OK, not the greatest thoughts, whoops! But Jeff Wells' is kinder and says, "it's a kind of dry farce that isn't naturalistic for a second and is basically about manner and whimsy and bile, and it certainly doesn't go for broke. But it's fairly enjoyable. It's sometimes hilarious, especially when it rips into idiocy and thoughtlessness among the populace, and particularly red-state characters and values."

We're honestly not sure if we reported it, or if it was quietly announced, and we never noticed, but "Whatever Works" comes out June 19, 2009 in limited release according to IMDB.