The truncated weekend box-office preview. Another Friday, another reason to look at the film release schedule and see if there's anything out there worth spending your hard earned money on. Frankly, usually there's not, at least not in regular, wide release, but the limited release crop is usually a good bet to put on your radar.

Your best mainstream bet is the dark Jody Hill/Seth Rogen non-"Paul Bart" unhinged mallcop comedy/drama vehicle, "Observe & Report." Wait, "what!?" you say? Didn't we dislike it? (as if we have to have an immutable hardline) Yes, we did, and it has a pretty appropriately low 55% rating on Rotten Tomatoes, but if you must spend your money in a multiplex this weekend (and we suggest you don't, almost always), you are better off spending it to support Jody Hill's nascent career than you are spending it support retarded-looking crap like "Dragonball: Evolution" (a dismal 21% rating) and "Hannah Montana The Movie," (a lameduck 44% rating).

As much as we think Hill's film is clumsy and amateurish at times, he's an indie filmmaker at heart and we definitely support that and he can only go up from here, frankly. What we take issue with from other critics is those lauding the film because it's a transgressive, ballsy and subversive picture within the studio system, and yes, that's a great swindle they pulled off, congratulations, but that does not necessarily mean it's a good or successful, transgressive, ballsy and subversive picture and a lot of the geek crits seem to be extremely confused with that point. Oh well, buyer beware.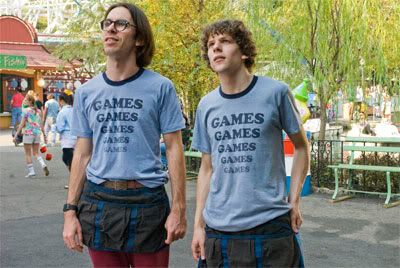 What you should really do is wait for limited release films to expand in your market. Greg Mottola's coming of age/first romance picture, "Adventureland" is a excellent bet there, it expands into wide release this weekend and will be available in 1,876 theaters according to Box-Office mojo. The astonishing and observant immigration drama "Sin Nombre" also moves onto 65 additional screens and you should definitely catch that one if it's playing in your city. The sprawling Italian crime drama, "Gommorah" is on 51 screens, the Academy Award-nominated Foreign film for Sweden, "Everlasting Moments," is on 30 screens and the peerless and venerable "Che" is still on 25 screens. There's stuff out there people, you just have to look for it with a bit of effort (to those who never get any of these films in your town, we apologize on the studios' behalf).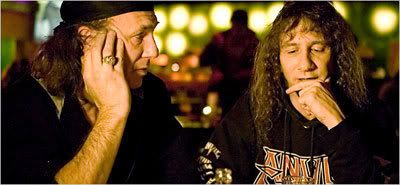 In Limited Release
If you live in New York or L.A., the first thing you should do after work today is immediately buy tickets to the hilarious and yet, moving documentary, "Anvil! The Story Of Anvil," a cheekily (and self-aware) titled film chronicling the underachieving and unappreciated 1980s Canadian heavy metal band named Anvil, that are inexplicably still going despite massive adversity (almost a non-existent audience) and the fact that they're in their '50s now. The superficial entry point to getting an understanding of the picture, "This Is Spinal Tap," but the flick is an emotional and heartwarming story about life-long friendship and persevering and not a mockumentary in the least (though yes, it's pretty hysterical at times). One must experience it first hand to fully understand the layered richness to it that's comedic, hopeful and soulful. Tellingly, the film has a spectacular 98% approval rating on RT. There's a glowing endorsement for you.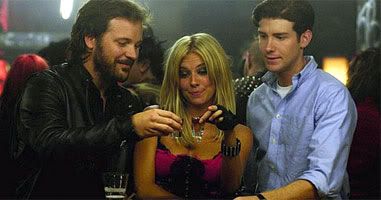 Also in limited release are films that could be good -- but since we weren't invited to screenings of them, you'll have to fend for yourselves a little -- are the suburban drama "Lymelife" with Kieran Culkin and Alec Baldwin, and the coming-of-age love triangle, "The Mysteries of Pittsburgh" starring Sienna Miller and Peter Sarsgaard. "Lymelife," we have no pre-judgment on -- we did wanted to see it at TIFF '08, but missed it -- but it only has a 55% rating, however, as should be noted for all limited release, this could change and grow or lessen when more reviews roll in. "The Mysteries of Pittsburgh" did not look good from the trailer and perhaps we were right as it has a dreadful 10% rating.

Also out in limited release is, "Pope's Toilet" (86% rating), "In a Dream" (82% rating) and "Sky Turns" which has an unfavorable N/A rating. As always, no one is putting a gun to your head to go see movies in debut release, so if you're not in a major city, you should catch up on smaller pictures that have finally rolled into your town or rent or buy them on DVD. Don't just be a drone and show up to theaters to munch on popcorn. There's a great cinematic education to be found in almost any local video store of even half repute.