After a pretty dismal week last time around, we're back with more (and hopefully better) movies opening this weekend. "Monsters vs. Aliens" crushed the competition last weekend through the magic of good release timing and, in spite of at least one strong contender, it may well hold on. Anyway, to the movies:


Wide Release:
This weekend's most exciting (only) wide release is, of course, "Adventureland," Greg Mottola's follow-up to "Superbad." The movie has a thoroughly impressive 89% rating on RT and stars Jessie Eisenberg ("The Squid and the Whale") as a shiftless college graduate who takes a dead-end job at a crummy amusement park for the summer. You can check out our thoughts in this review and we were mostly as impressed as everyone else. Almost every actor who has ever appeared in any movie ever--including Kristen Stewart ("Twilight"), Ryan Reynolds ("Just Friends"), Martin Starr ("Knocked Up") and SNL's Bill Hader and Kristen Wiig. For anyone who likes the gross-out comedy with heart formula of the Apatow gang, this is your best bet.


The other wide release out this weekend is "Fast and Furious," the third entry in a series that nobody particularly likes. Directed by Justin Lin (who also directed the last entry in the series), Paul Walker, Vin Diesel, Michelle Rodriguez and Jordana Brewster all return to reprise their roles as the various people who drive the cars really fast. Not surprisingly, it has a 23% on the Tomatometer.


In limited Release:
"Gigantic" gets a small opening this weekend. If you are even a casual reader of the site, then you're aware that we really, really like this movie and have talked about it a lot as of late. To briefly remind those new to this corner of the internet, "Gigantic" is the story of a lonely and shy mattress salesman played by Paul Dano and his romance with a spirited young Zooey Deschanel. The rest of the cast is equally impressive--John Goodman, Ed Asner, Clarke Peters of "The Wire", Jane Alexander and comedian Zack Galifianakis all show up at some point. You can read our original review from TIFF here. But many critics do not like this film one bit and it has a poor 43% rating on RT. But what are you gonna do? We liked it's clipped writing, but a lot of people are finding it forced and not jiving with its ambiguities.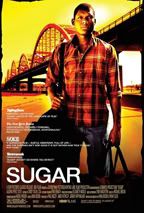 Audiences everywhere got a treat three years ago when screenwriters Ryan Fleck and Anna Boden made their debut with "Half Nelson." They return now with "Sugar," the story of a young man from the Dominican Republic struggling to make it as a baseball player in the Major Leagues. There's certainly many great qualities about it, but we didn't totally love some of the undramatic moments that made for a midsection that left us restless. But critics seem to love it and it has a 88% rating on Rotten Tomatoes. Directed by Fleck, this movie -- while maybe not quite the supernova of greatness that is "Half Nelson" -- is still among the weekend's best choices.


For the unconventional cinephile, the Kazakh documentarian Sergey Dvortsevoy's debut feature film "Tulpan" opens this weekend. We saw this at NYFF and enjoyed it (read our thoughts here) in spite of the fact that Kazakhstan's government were less than enthusiastic. The story concerns a young shepherd, Asa, and his desire to marry and start his own flock of sheep. Unfortunately, the only girl in town--quite literally--is Tulpan, who claims she finds him unattractive because of his oversized ears. Critics are pretty effusive in their praise of the film, which currently holds a 94% rating at Rotten Tomatoes. To us it's a film to admire, but one not to neccesarily actively love.

Also highly rated (another 94%!) is "The Song of Sparrows" from Iranian director Majid Majidi. When an Iranian man loses his farm, he accidentally ends up as a motorcycle taxi driver in a large city. This causes a number of problems in his life that his family must help him overcome. A little traditional sounding, but possibly worth a look for fans of Iranian cinema.


If you're not into action, you can check out "Paris 36" about a working-class neighborhood in pre-war Paris. Directed by producer Christophe Barratier, the movie follows three show-biz types who are looking for a hit show so that they can buy the theatre where they work. Critics have been mostly kind, giving the movie a 65% rating. Fans of anything French, musicals and nostalgia should apply.

In documentaries, there's "Forbidden Lie$" from director Anna Broinowski. The film examines the story of Norma Khouri, a Chicago real estate broker who posed in Australia as a Jordanian refugee of an Islamic fatwah that would claim her life. In reality, of course, the woman was on the run from the FBI for over a million dollars worth of fraud charges that she had accumulated in America. The examination of her motives and the literary scandal should be gripping--the film has an 83%--so it might be worth a shot.

To round out the weekend there's a few less interesting selections. First, there's "Alien Trespass," a sendup of/homage to b-movie sci fi pics from the '30's. Coincidentally, the movie currently has a 30% on the Tomatometer! If, on the other hand, you'd like a teen comedy that isn't "Adventureland" you could try "Bart Got a Room," about a desperate boy's search for a prom date. It has a decent 70% rating, so it might not be a bust. There's also "C Me Dance," a religious movie about a girl with a rare blood disease who converts people to Christianity and battles Satan or "Enlighten Up!," a film designed to convert the viewer to a yoga enthusiast. There's also "The Escapist" from director Rupert Wyatt.

Well, good luck in your viewing...if you live in a smaller-market town, you're probably going to need it.