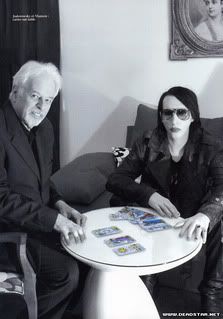 We think we were in our late teens when our shady little local video store took us to the back row to showcase the collection of foreign and counterculture oddities found in every haunted, cobwebbed VHS case. Out of all of these VHS's, none were rented more than the works of Alejandro Jodorowsky, who had his films famously kept out of US circulation after midnight movie releases in the seventies only to secretly leak bootlegs all across the nation. Our copy of "El Topo" was dubbed into English and with Korean subtitles, and with the beaten quality of the tape, it was like receiving a transmission from outer space.

Jodorowsky hasn't made a movie since disowning "The Rainbow Thief" twenty years ago, but ScreenDaily reports that the man who is credited with creating PSYCHOMAGIC is set to shoot "King Shot" this October. The metaphysical spaghetti western, first announced in Cannes last year, is shooting under David Lynch's Absurda banner, and the cast includes Nick Nolte, Asia Argento, Udo Kier and serious Jodorowsky devotee Marilyn Manson (who was married with Jodo standing in as the minister in his "The Holy Mountain" garb). The project is budgeted at $7.4 million, and it has now been announced that Jodo's cinematographer will be Vilmos Zsigmond.

"King Shot" has been Jodo's rumored next project for awhile after "Abelcain," his planned "El Topo" sequel, fell through. A Youtube video surfaced last year where Jodo discussed his plans for "King Shot," sharing concept art and a cast list that included Mickey Rourke, but that was quickly yanked. In lieu of that treasure trove, here's a bit about Jodo's movies from the man himself- hearing him speak is stronger than several street drugs.