Well, after the false start of "Wolverine" (which still raked in an ungodly amount of money last weekend) the first true blockbuster has arrived and the summer of movie nerdom is officially underway! "Star Trek" will ride a wave into cineplexes around the nation along with a smattering of smaller movies in limited release. So let's take a look: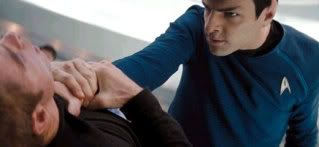 Of course, J.J. Abrams' take on one of the sacred cows of sci-fi nerdery, "Star Trek," finally warps into the theaters this weekend. Serving as a reboot/re-imagining of the franchise, the movie tells the story of the Enterprise crew coming together under James T. Kirk (Chris Pine) and battling a time-traveling baddie played by Australian hunk Eric Bana. The film has received across-the-board positive reviews (94%!) and looks like it will re-introduce the franchise to viewers. Hell even we, in all our playful anti-nerd fervor, were pretty impressed with the picture. Zachary Quinto of "Heroes," Zoe Saldana ("Pirates of the Caribbean"), Simon Pegg ("Hot Fuzz") and Karl Urban ("Doom") all appear as rebooted versions of original series characters. 'Trek' is already getting pegged as this summer's "Iron Man" and that might not be too far off--a fun and exciting way to start the summer off. If you wanna see a flick this weekend, this is your best bet. With any luck, its relative-smarts will be rewarded with a higher box-office # than "Wolverine," but since the picture is actually decent and a above-average tentpole, we presume the numbers can't possibly be that high.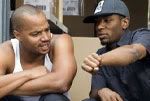 The only other wide-opener this weekend is "Next Day Air," a movie that manages to pack quite a few names into a flimsy-looking gangland comedy. Directed by music video auteur Benny Boom, the plot focuses on two small time hoods who happen to receive a package of top shelf Bolivian marching powder and--this probably goes without saying--hilarious hijinks ensue. Although the film has a dismal 17% rating right now, it does star the impossibly likable Donald Faison, Wood Harris of "The Wire" and all-around coolster Mos Def. It's probably not worth the price of admission...but if you're desperate, it might be good for a laugh.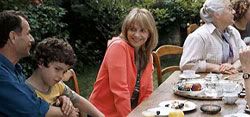 In Limited Release
As usual, this weekend sees a nice selection of smaller features coming to theaters. Foremost among these is "Summer Hours," which we here at the Playlist loved (one of our favorites of the year!). Don't go by just us, though--critics are also in love as well as the film currently has a 94%. Directed by Olivier Assayas, the well-regarded French punk director, the film is a beautiful portrait of a family that rallies around one another in the face of loss. Juliette Binoche stars in this, which may well be the single best movie of the summer--if not the year.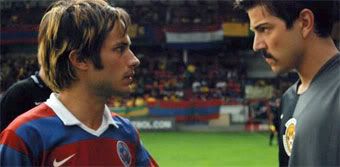 Also completely worth your time is "Rudo Y Cursi," a film that reunites the beloved Gael Garcia Bernal and Diego Luna (they of "Y Tu Mama Tambien" fame) for a beautiful Spanish-language film that tracks two friends as they rise to prominence as futbol players (though no actual futbol-ing is shown, oddly). Directed by Carlos Cuaron, brother to Alfonso, we flipped for this when we saw it recently. Critics aren't quite as daffy (67%) but we still give this the full endorsement. Definitely worth your time.

Should you be in the mood for a documentary, then you'd do well to check out "Objectified" from director Gary Hustwit (who helmed the font doc "Helvetica"). We enjoyed the design-porn nature of the film,
but were somewhat dismayed and put-off by its shallow values, when we saw it at SXSW and, though critics are somewhat split, as the movie has a 50% rating right now. Still, it's not every day that you see a documentary about the people who design the objects with which you interact on a daily basis and assign them emotional and psychological value. Worth a look.


Elsewhere, "Julia" looks like an interesting picture. Directed by Erick Zonca, the movie stars Tilda Swinton as a borderline-alcoholic actress who tries to drown her isolation and loneliness in more booze whilst becoming increasingly withdrawn. Eventually, this lifestyle leads her to commit an act of shocking violence. The 71% rating suggests it's worth a peek. Also in documentaries this weekend, the not-as-dicky Michael Moore, Kirby Dick, is back this weekend with "Outrage," a documentary that examines the policies of closeted gay politicians as they continue to crusade against gay rights. Well-reviewed with a 79%.


Also hopeful is "Adoration," Atom Egoyan's newest cerebralist venture. The film centers around a young man (Devon Bostick) who, upon receiving a homework assignment that requires him to translate the story of a terrorist who endangers his family to achieve his goals, looks back over his own family history. It also stars Rachel Blanchard and Scott Speedman. Sure to be a thought-provoking evening of film--with a respectable 77% rating.

Rounding out the noteworthy is "Little Ashes," a biopic about then-young artistes Salvador Dali, Luis Bunuel and Federico Garcia Lorca in the early part of the twentieth century. In spite of not-great reviews (40%), it might be worth a shot for Robert Pattinson as Dali if you're a teen "Twilight" obsessive and want to be shocked alive with the promise of the vampire hottie tackling gay sex. And, of course, we'd be remiss not to mention "Powder Blue," another movie that seeks to de-glamorize Los Angeles. It would be totally without distinction if it weren't for Jessica Biel's striptease scenes which even then seem like something you download online (wait, did we say that aloud?). If you possess a morbid fascination for watching people fail, and can stomach seeing Heather Graham further sully what's left of her career with almost, direct-to-video flops, "Baby On Board" is your best bet.

So have a fun weekend...and, you know...live long and prosper or something.