Spanish éminence grise filmmaker Pedro Almodóvar's "Broken Embraces" is his 17th feature in a stellar, 30-plus year career, the third film to play in-competition and fourth to screen at the Cannes Film Festival.

Despite his oeuvre par excellence, he's never won the Palme d'Or, but he and his films have won many Cannes awards over the year, including, Best Director for "All About My Mother" in 1999. 'Embraces' ("Los Abrazos Rotos") reunites him with his recent muse, Penelope Cruz in a four-way tale of dangerous love, which was shot in the style of a hard-boiled 1950s American film noir. Reviews in Spain and the trades so far have not been stellar.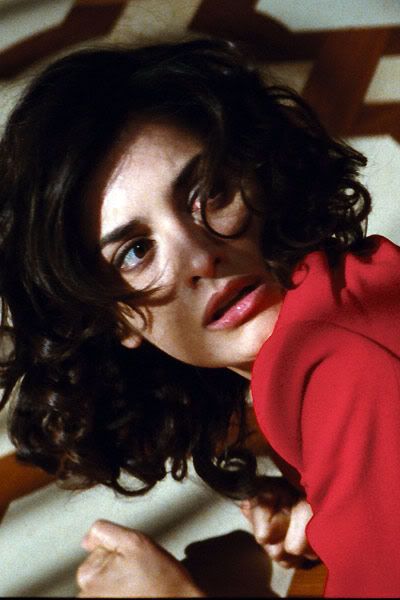 One could make a very persuasive case for his status as the world's greatest working filmmaker. At the very least, no director has so profoundly tapped into the gay experience, imbuing every colorful, carefully composed film with sexual tension, Hitchcockian levels of dense plotting and suspense, fervent Sirkian melodrama, and a dash of '30s screwball comedy.

However, 'Embraces,' which contains all the aforementioned qualities, is definitely not one of Almodóvar's best works. Largely competent, but ultimately soulless (the film lacks the heart of his previous pictures) yet still rife with the expected convoluted secrets and plot twists. The subject matter is slightly more fluffy by comparison to "Talk To Her" or "Volver" (our recent personal faves), centered around a film production and a love triangle between a director (Lluis Homar from "Bad Education"), a wannabe actress (Penelope Cruz), and a wealthy financier/producer (Jose Luis Gomez). One could argue his campy, gay son (Ruben Ochandiano) is the fourth piece in a fractious quadrangle, though whether he's in love with the director is left up to subjectivity. Blanca Portillo plays the director's trusted production manager and Tamar Novas, her son, Diego.

Jumping in time between 2008 and 1994, 'Embraces' revolves around a reclusive writer (Homar) who once suffered a car accident that cost him both his vision and the love of his life. The man is Mateo Blanco (the former director), who signs his various stories and scripts with his pseudonym, Harry Caine. But, after the accident, Mateo abandons his real name and clings to only his nom de plume, insisting that any other life he once had died the night he lost his beloved Lena (Cruz). The film then tries to reconcile the events of 1994 and how they apply to present day, weaving back and forth, often into a emotionally lukewarm knot.


Cruz's character as a secretary and part time call girl (who really just wants to be an actress) does a capable job, but the role doesn't give her sufficient opportunity to shine. The secrets-and-lies mystery twists and turns with Hitchcockian knowingness, but the web of plots starts to become entangled in itself, leaving little room for the emotional reveals in the conclusion to feel more than passing feelings of guilt, forgiveness and redemption rather than the true profundities of previous Almodóvar work. Perhaps the Hitchcock obsession is too pronounced, as the film feels more interested in plot than characters, (after all, what Hitchcock film ever made you cry?) and there's a skimming the surface feeling of depth. Essentially it's a genre film without the versatile textures that make his films usually something much more rich and often divine. The film within a film, metaness recalls, "Women on the Verge of a Nervous Breakdown," especially, the camp of this movie's picture within, "Girls and Suitcases," and there are many cinematic references (Rosellini, and noir films of the '40s), but they don't have much more affect than, "Where's Waldo?" cinephile spotting.

Though Homar and Novas are adept, the only real standout performance of the film is Portillo (the woman with cancer in "Volver"), and the Spanish filmmaker might want to consider giving her a lead performance one of these days.



Though the director and his editor always do an admirable job of jumping forward and back through the story's timeline hoops, the ambition trips up and the overlong length doesn't help (a real sticking point for almost all the films of Cannes '09, far too long for their stories). "Broken Embraces" has many terrific individual elements, popping color cinematography and lovely framing, amusing melodrama, and an evocatively moody score (Alberto Iglesias as usual), but the whole just doesn't add up to anything particularly marvelous.

The story was evidently inspired by some serious migraine headaches Almodóvar recently suffered that forced him to wear dark sunglasses (the reason why the main character is blind), and a line of poetic dialogue at the end of the picture says, "one must finish the film even if he has to do it blindly," perhaps giving a nod to his pains on and offscreen. Either way, this vision isn't fully entirely cogent.

Ultimately, "Broken Embraces" is a slight work from the Spanish director that never quite clicks or finds a solid rhythm and harmony - the constant time shifting robbing itself of momentum. The picture can't anchor itself to an single emotion, and falls into the realm of straight-forward genre film, rather than the multi-layered Almodóvar works we come to know and cherish.[B]

Music: The film features an awesome Can song (the German Kraut-rockers from Ege Bamyasi) in a fitting nightclub scene, but the Cat Power song, "Werewolf" just seems lyrically awkward and sonically out of place.