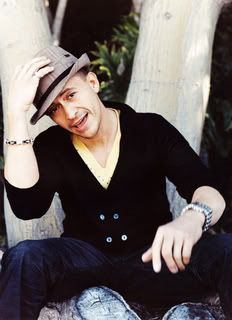 Is Clifton Collins Jr., who we honestly used to get confused for Cliff Curtis until "Star Trek," an excellent self-promoter? Or is he Tweeting off-the-record about his next megablockbuster role? In a 24 hour period, he used Twitter to say, " Studying my ass off for THOR, gonna be a late night, well worth the loss of sleep!" followed by, "Brewing big pot of joe, hitting THOR hard this mornin!"

What's this guy's deal?

The goofiness of someone as fun but low-profile as Collins Jr. social-networking aside, his casting in "Thor" certainly raises eyebrows. Considering his decidedly un-Norse features, he seems an odd fit for the anonymously-cast Marvel Studios production- might he be playing a character in the contemporary world, where Thor eventually finds himself at the close of the script, scuttled from ancient Asgard to join "The Avengers"? Not being well-versed in "Thor," we're not entirely certain any of the real-world "Thor"-related characters have backstories complex enough that you'd have to brew a cup of coffee to research. Maybe a more outlandish villain from the outskirts of Asgard? Considering the number of "urban" characters the ethnically diverse Collins has played, maybe he's from the Asgardian 'hood.

We feel fairly strange reporting on this- the story is essentially an actor researching a role. Lots of actors do this, but is it newsworthy? We have no idea whether Collins Jr. has the part, and for all we know, it has as much significance as the recent story of basic cable nobody Katee Sackhoff buying a bunch of Daredevil comics to research the Typhoid Mary character for a movie that no one wants to make. We hope you look forward to our reporting of Kyra Sedgwick's MySpace bulletin hinting at the precise reason why she's learned to cook souffle.