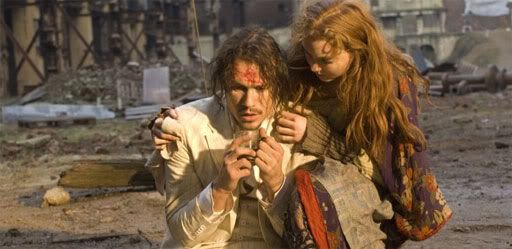 As of an hour ago France time, Terry Gilliam's "The Imaginarium of Doctor Parnassus" has started its debut world premiere at Cannes. The press still left at the Croistte (some have bailed, including Jeffrey Wells for example) are all presumably in attendance and that means we should have reactions in about two hours (the film ends about an hour after this will be published, 10:30-ish a.m. France time, 4:30-ish a.m. EST).

But is anyone still worried about the quality of the film? We are. Why? Does anyone find it strange that divisive films like "Antichrist," the dour-sounding Michael Haneke film, "The White Ribbon" and a winning, but small niche picture like "Looking For Eric" have sold already, many before the films actually screened in competition, but 'Parnassus' has not?

Then again, it's all about price and with a picture that boasts the last appearance of Heath Ledger and appearances by A-list talent like Johnny Depp, Jude Law and Colin Farrell, might be asking for a pretty penny, possibly far beyond its actual worth considering how opaque some are suggesting it is (i.e., not commercial enough despite the caliber of talent involved).

Patrick Goldstein published an article about the film's potential value right before the festival started that suggests that all the aforementioned elements of the film, Depp & Co., Ledger, were not good enough to entice buyers. At least not at the price Gilliam's producers were asking for.

About the screenings that happened last week in L.A., he writes, "so far [reactions] have been quite cool on the movie. Interviews with half a dozen American distributors here revealed a consistent reaction: Whatever publicity Ledger's death may generate for 'The Imaginarium of Doctor Parnassus,' the film itself is too oblique to stand on its own. The buyers said they were both dazzled and puzzled by some of Gilliam's choices, and though they found much to admire, it wasn't enough to tip the scales." Anne Thompson also says buyers "are lukewarm so far" and it sounds like Sony Pictures Classics have passed for now or are at least waiting for the price to go down.

Buyers have waited it out this long so that truly means no one is dying for the film quite yet. Reactions this afternoon should seal the deal. If the press is glowing, buyers will probably step up a little bit, but if critics feel equally half-hearted about the picture, it's probably back to negotiating and lowering the asking price for Gilliam's funders. And so far, films that have played in the Out Of Competition section have been dreadful, so that doesn't augur well either. We'll hopefully have reactions from the film in a few hours.