Speaking with Dark Horizons, Ewan McGregor has revealed details about Grant Heslov's upcoming film "Men Who Stare At Goats" — a black comedy about clandestine, paranormal military activity set in Iraq — which costars George Clooney, Jeff Bridges and Kevin Spacey.

On his character in the film based on Jon Ronson's non-fiction book, McGregor revealed: "Well, I play a journalist (Ronson), at the beginning of the film whose wife, who's also a journalist in this small newspaper in Ann Arbor - The Ann Arbor Daily Telegram - cheats on him with her one-armed editor, Dave. And I see her flirting with him. But then she comes clean, and she's going to leave me for this one-armed man, Dave. And I, in my misery, take myself to Iraq."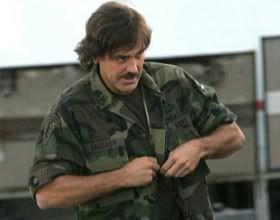 Further, on the setting and story of 'Goats,' McGregor added: "It's the beginning of the Iraq War. And I go to become embedded, but all I do is end up in a swanky hotel in Kuwait, and can't get into Iraq. I'm not embedded with any troops, so I'm stuck in this four-star hotel, having wanted to prove my manhood by going to war, you know? Where I meet George Clooney's character, and we embark on a kind of road trip through Iraq, looking for his buddies in this strange and secret section of the American Army. It's a very funny film, and I had such a lovely time working with George, and with Jeff Bridges and Kevin Spacey. And it was the four of us, and it was just hilarious. It was great fun."

Previously, the film had been given this short synopsis:

'Goats' is set in Iraq and centers on Bob Wilton (McGregor), a desperate reporter who stumbles upon the story of a lifetime when he meets Lyn Cassady (Clooney), who claims to be a former secret U.S. military psychic soldier who was re¬activated post-9/11. The film chronicles the two men's travels through Iraq and offers glimpses into the supposedly real secret Army unit tasked with creating soldiers with paranormal powers. Bridges will play Bill Django, the founder of the psychic soldier program and Lyn's mentor. Spacey will play Larry Hooper, a former psychic soldier who is running a prison camp in Iraq.
As a black comedy though, such synopses are probably not going to do the film justice but it does all sound very promising. The director, Grant Heslov, was nominated for his screenplay of Clooney's "Good Night, and Good Luck," so this bodes well for a wry, and sharply-written script. The film doesn't have a release date as of yet although IMDB seems to think it'll come out March 12th, 2010 in the U.K. We're hoping Christmas 20o9, but maybe that's too optimistic?