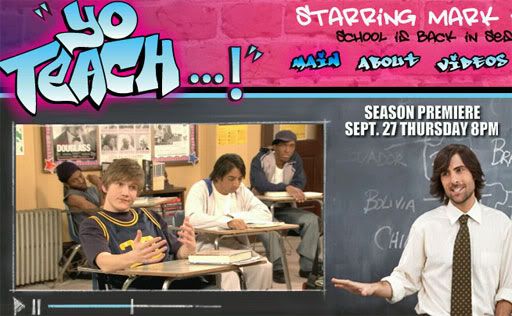 Alright, to recap, Judd Apatow's upcoming dramedy, "Funny People," stars Adam Sandler as a dying comedian coming to terms with life and death and Seth Rogen as a struggling comic trying to help him out. One of Rogen's character's friends, a more minor character in the film, is played by Jason Schwartzman (he's also writing the music for the film), who is a self-obsessed NBC TV star on a sitcom called, "Yo Teach" (it even has its own fake NBC site, thanks to Vulture who noticed; Photos of which also reveal that "Undeclared" star Carla Gallo — who has also had smaller roles in Apatow projects, "Superbad," Forgetting Sarah Marshall," "The 40 Year Old Virgin," etc. — has a role on "Yo Teach," errr... in "Funny People" too.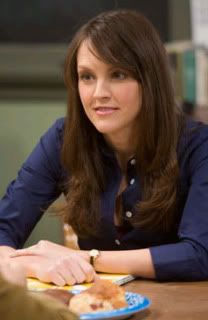 "[The fictional show] fits in somewhere between 'Dangerous Minds' and 'The Cable Guy,' " Schwartzman told ComingSoon last month, describing his character's show. "I'm a teacher. I teach some kids that have been written off by society, but my heart is too big to let that happen. I want to make sure they're loved and treated like humans and get an education along the way."

There are many, meta-shows, meta-movies and films within films in "Funny People" (Sandler's comedian character is also a successful movie star and many of his "films" are mentioned, briefly shown or alluded to in the film). We predicted last month, "Will we see viral marketing based on these [films & shows]? Will we see them at the end of the film ala "Forgetting Sarah Marshall" in the credits? Will we see them on the DVD? All of the above sound like a good bet."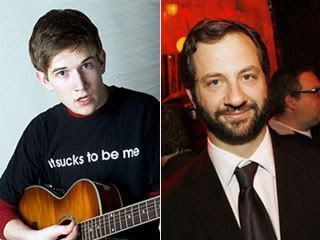 Looks like we were correct as viral marketing clips for "Yo Teach," have just hit YouTube. Just like the character in the script, Schwartzman's character (named Mark Taylor Jackson) seems like a smug, self-satisfied jackass, enamored with his own (relatively minor) success, and the clips seems to echo that idea. Both clips show there is a lot of "Yo Teach" footage so expect lots of this on the DVD or as we said again, perhaps buried somewhere in the credits (and note: one of the kids who plays one of Schwartzman's main students is Bo Burnham, the 18 year-old Youtube comedian/songwriter that Judd Apatow loves). The second viral video is actually a full-on clip from the "show," and Burnham, known for his silly, comedic songs actually raps therein.



"Funny People" opens up July 31. Our only concern is, will audience warm to a comedy that's two hours and 30 -something minutes? At least that's approximately how long the film is/was. Apatow is currently trimming it down. BTW, an astute reader points out that the principal is "Raj" (Ernest Thomas) from '70s sitcom, "What's Happening." Good lookin' out.