Apparently, Hugh Jackman is hopeful that his abysmal "X-Men Origins:Wolverine" will do so well that the studio will soon greenlight a sequel. He even has an idea for where it should be set.

"I won't lie to you, I have been talking to writers," Jackman told MTV News. "I'm a big fan of the Japanese saga in the comic book."

Ah. So that explains that stupid post-credits ending that we saw last night, which featured a grizzled Logan in a bar in Japan. Then he says he's "drinking to remember." But maybe Wolverine should have instead remarked, "I'm thinking about a sequel."

Jackman went on, saying that, "…we'll find out beginning of May if there's still an audience for it, if people still like the character. There's no point in telling the story if no one wants to hear it."

Well, we don't want to hear it. Wolverine was a dramatically inert, visually muddled mess that felt like the longest movie ever made and essentially ruined a pretty great character. Still, the studio is optimistic (reports are expected at least $80 million this weekend, Jesus). If everyone else does in fact lap up this crap, Jackman will be ready.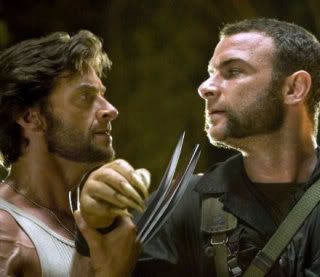 "There are so many areas of that Japanese story," Jackman explained. "I love the idea of this kind of anarchic character, the outsider, being in this world — I can see it aesthetically, too — full of honor and tradition and customs and someone who's really anti-all of that, and trying to negotiate his way. The idea of the samurai, too — and the tradition there. It's really great. In the comic book he gets his ass kicked by a couple of samurai — not even mutants. He's shocked by that at first."

There's also a great, very intricate story there with Mariko," hinted Jackman in reference to one of Wolverine's lost loves. "And so many cool ways we could go."

Ah, yes there would be many cool ways you could if the dark and moody "Wolverine" wasn't just painfully compromised, ruined and rendered into a cartoony joke by Gavin Hood, 20th Century Fox and the obvious story-by committee team that worked on it. - Drew Taylor.