Up and coming British actress Lucy Gordon (who many are calling the "'Spiderman 3' actress") passed away earlier this week, the BBC reports of an apparent suicide. Her death is a tragic, untimely blow to a career that looked set to blossom in Joann Sfar's upcoming Serge Gainsbourg biopic, "Vie Heroique (A Heroic Life)."

In yet what will be another posthumous celebratory film, 'Moi Non Plus' (the film's new title) will see Gordon portray Jane Birkin, a British actress/singer who is a former lover and frequent collaborator of Gainsbourg's. The biopic's title, in fact, was a 1969 duet by Birkin and Gainsbourg and a 1976 film directed by Gainsbourg and starring Birkin. Charlotte Gainsbourg, star of the controversial Lars Von Trier film "Anti-Christ," is a child of the two.

As previously reported, rather than a typical biopic, 'Moi Non Plus's' director Sfar is aiming for a more fantastical tinged world for the film with characters crafted by Spanish SFX experts "DDT Efectos Especiales" (the people behind Guillermo Del Toro's "Pan's Labyrinth") set to feature.


Not only that but, as pointed by World Of Kane, staple Del Toro actor Doug Jones will be appearing in the biopic in an effects-heavy role. While that exact role is not yet known, it is rumored that Jones will be portraying an alter ego of Gainsbourg named Gainsbarre who was often the subject in his songwriting. Gainsbarre is a character noted for an "excessive indulgence in booze, tobacco and women [that] seemed to nurture his commercial success as the French public became more fascinated by him with every outrageous piece of music or behavior."

The film stars Eric Elmosino as the Serge himself and Laetitia Casta and Anna Mouglalis as two of Gainsbourg other notable former flames; Brigitte Bardot and Juliette Greco.

While all this is nice, readers may have difficulty trying to envision what will become of Joann Sfar's fantastical world. As a comic book artist, Sfar is not short on imagination which is exhibited by the following concept art shots, courtesy of World Of Kane again. It wouldn't surprise us to see Jones portray that odd looking character to the furthest right of the second image either.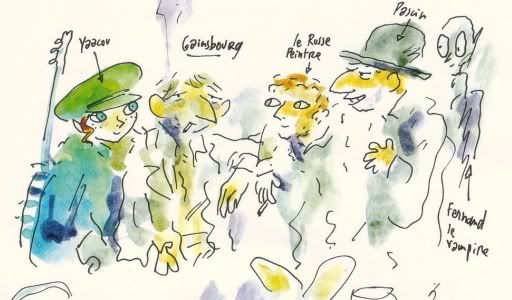 Also, here's a clip from the aforementioned track by Gainsbourg and Birkin whose title was used for the biopic.