How enticing is

this!

A feature on the

lesser

films of the

2009 Cannes Film Festival

, ha. Maybe in a way it's a steer clear of these heads-up, but it's also, we have no clue where else to stick these/ we're too lazy to write full reviews. Plus "Vincere" was actually pretty good. Anyhow, we're completists for better or worse and wanted you to know we just weren't hanging out on the beach the entire time at Cannes, though, when we think about the quality of films we saw — generally poor — perhaps we should have.
"

Agor

a

"


Alejandro Amenábar

's latest swords and sandals drama is quite a departure from his previous works, such as "

The Others

" and "

The Sea Inside

." His epic, but hardly classic, film about the ungodly rise of Christianity (pretty sexy subject, huh?) "Agora" is a long-winded (a grueling 2 hours and 20 minutes), ungratifying portrait of history set in Roman Egypt in 391AD a lot like history class while eating raw vegetables and dry oats. It's largest strength is having powerhouse

Rachel Weisz

portray the feminist astrologer and atheist Hypatia, but her storyline
—
her obsession with figuring out Earth's place in the universe
—
while

mildly

interesting on its own, is not nearly as compelling as the religious feuds going on at the time, and ultimately distracts from and diminishes the historical drama's core. The love triangle between Hypatia, her personal slave Davus (

Max Minghella

), and Orestes (

Oscar Isaac

) had dramatic potential but is ultimately unfulfilled when the three characters go their separate ways midway through the film. The picture has all the basic necessities of an epic, the impressive set design and the swelling operatic score, but what's missing is a strong personal storyline that might have brought the whole saga together. Unless, it's (mis) sold as a "

Gladiator

" this thing is fucked commercially. [C]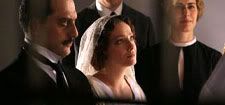 "

Vincere

" - How perverse (and perhaps retardedly misguided) is our commitment to cinema? We skipped out on a chance to hit the "

Inglourious Basterds

" party in favor of seeing a film about Il Duce
— a biopic about the secret life of Italian WWII fascist leader

Benito Mussolini

. Initially the film was a hard-road slog, assaultingly operatic and unsubtly expressive, but eventually this tale about Mussolini's secret (polygamous) marriage and the son he sired
— acknowledged then denied
— was salvaged by the excellent performance of
Giovanna Mezzogiorno

(the Italian

Marion Cotillard

in beauty and skill).
The aptly over-the-top

Filippo Timi

as Mussolini himself was pretty grand as well.
Marco Bellochio

's 'Vincere' was actually favored to win the Palme d'Or
— which seems greatly overestimating the film's overall worth, good, but not

that

good
— but in the end came up empty handed. [B]
"

Kinatay

" - Let's not mince words and or lie. We practically

fell asleep

through Filipino director

Brillante Mendoza

's "

Kinatay

," his
eighth

directorial effort in four years
(holy shit that's fast), about a dumb kid who somehow gets roped into a "job" for extra scratch which turns out to be riding along in a van to witness the murder of a stripper -- then no joke, we

walked the fuck out

(30 other people,

at least

, did the same thing at the same vile and pointless moment, this was about the 1 hour 20 minute mark). The film was routinely

reviled

at Cannes, but when Mendoza won the Best Director prize at Cannes, we thought? Were we asleep? In a dream state? Did we miss something brilliant? We

thought

what we experiences was 45-minutes of a car ride (looking like it was shot on a butt-ugly camcorder) that went fucking nowhere, but we weren't completely sure afterwards. Then Cannes jury member

Asia Argento

confirmed what we saw. "It felt like the director had no idea how to do it and picked up a camera and was shooting the first movie of history," she told Vulture. "The 45-minute scene in the car where nothing happens I thought was incredible."
Translation: the director had no idea what he was doing. Ok, that's a lie. His last film, "
"

Serbis

" was quite good, but honestly, you probably couldn't pay us to sit through that again. By all account Mendoza winning the Best Director prize at Cannes was the most contentiously argued award of them all.
"

Ne Te Retourne Pas

"

("

Don't

Look Back

")
If there's a mighty lesson we learned at Cannes this year that will

always

stick with us, it's most films in the

Out Of Competition

section are

out of competition

for good fucking reason. Perhaps because they suck ("Agora" was in this dubious section too).
Marina De Van

's doppelganger identity mystery starring

Sophie Marceau

and

Monica Bellucci

was laughably bad. A poor excuse for a French movie-of-the week, the weak picture is about a woman who seemingly goes mad after writing about her childhood unlocks horrible memories and yields strange visions of a young girl (ghost?). Then her husband's face
— via hysterically poor CGI
— starts to morph into the visage of a stranger she doesn't know and her family, children and the world around her seem totally alien. Clues lead her to Italy where the mystery unravels, and or hilariously falls apart in loathsome melodrama. Avoid at all costs. [D]