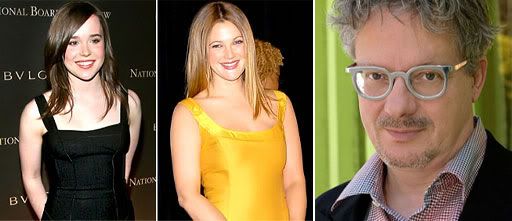 Correction! This morning when we reported on Drew Barrymore's indie, roller-derby film finding a home in Fox Searchlight and a release date in October 9, we had mentioned that Mark Mothersbaugh was composing the score.

Well, he was, but apparently he got the axe from Barrymore as they appeared to not have been seeing eye to eye.

"She hired me and fired me in all of like two weeks," Mothersbaugh said, laughing about it to OMG Yahoo. "I got snippy with her. She cancelled out on showing up at the studio three times and I kicked Devo out every single time and had an engineer come in and set up the studio and the third time I got pissy with her on the phone. And she said she just doesn't think our styles work together. So I got fired."

Interesting. We've heard some vague rumors about some tentative distancing between Wes Anderson and he, and it's now going on two pictures ('Darjeeling' and "Fantastic Mr. Fox") that Mothersbaugh won't be scoring for his frequent collaborator (or at least it seems that way). But who knows, you can't read into that too much and it's all just speculation (Interestingly enough, Another Wes Anderson alum is also working on the "Whip It!," music- soundtrack supervisor Randall Poster).


Scoring jobs up next for the Devo star include Bret Ratner's segment in "New York, I Love You" (when the hell is that thing coming out?) "Cloudy with a Chance of Meatballs," and a film called, "Johnny Appleseed" that we know nothing about.

The "Whip It!" soundtrack so far is set to feature work by Peaches, Turbo Fruits, Landon Pigg (also an actor and Ellen Page's love interest in the film), Jim Diamond and Har Mar Superstar who has a cameo in the film as well. As aforementioned, it's due in theaters now October 9 thanks to Fox Searchlight.