In a feature in the San Francisco Chronicle, director Michael Mann has spoken about his upcoming summer blockbuster "Public Enemies," starring Johnny Depp, Christian Bale and Marion Cotillard.

Mann and Depp had independently eyed a silver screen portrayal of John Dillinger for years and the marriage between the two on this project was the ideal partnership. After Mann learned that Depp had wanted to portray the cult criminal figure for over 20 years - on account of his grandfather who had ran home-distilled alcohol during prohibition - he knew Depp was the man for the job.

"A lot of what goes on inside Johnny Depp could be used and revealed," Mann said. "I know there are dark currents within Johnny and also from his past life, and I know he has a lot of John Dillinger inside of him. He has a deep understanding of a troubled past and a troubled life, but is someone who is a very passionate man. He could understand those currents in unique ways."

Not to compare the actor to a criminal though, Mann clarified "I'm not saying Johnny Depp was troubled," rather that the actor "could really empathize" with Dillinger.

Empathy for Dillinger is not something Agent Melvin Purvis feels though - portrayed in the film by Christian Bale. "Christian is a sweetheart to work with," Mann insisted in response to questions of Bale's now infamous rant on the "Terminator Salvation" set. "This is a guy who doesn't even travel with assistants. I can only surmise, if something like that happened, the provocation to Christian must have been extreme and going on for a long, long time."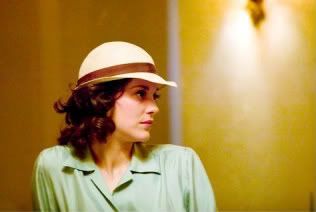 Behind every great man is a great woman and in the case of John Dillinger, that woman is Billie Frechette. Portrayed in "Public Enemies" by Academy Award winner Marion Cotillard, Frechette wasn't just your typical damsel in distress, she often drove Dillinger's getaway car.

As a French native, Cotillard was not aware of the story of Dillinger or Frechete. "I only knew Bonnie and Clyde because of the movie." she admitted. But after taking the role, Mann sent her to do her own research in Menominee Resevation in Wisconsin, where Frechette grew up. Her preparation didn't end there either. " I needed many takes to have the accent right, and I was very stressed out about the whole thing because it was my first movie after 'La Vie en Rose.'"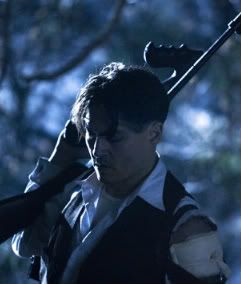 Mann also sent his leading man, Depp, to places in the Midwest that Dillinger had passed through and gave the actor toiletries and shirts that Dillinger had abandoned in a close escape. In one hotel, the actor was even able to touch the same doorknobs Dillinger had.

One thing that struck Mann in his own research was the short-mindedness of Dillinger and his gang. "They had no plan for the future," Mann said. "They were living for the moment." Mann also noted the criminals showed a "disconnect between cause and effect. If you trusted the wrong person and got shot, it wasn't because of an error of judgment. It just happened." From such philosophies arose popular expressions like "bullet with your name on it" and "when your time is up."

The trailers for the film, the latest of which was released last month, exhibited somewhat of a role reversal for the law enforcer-criminal archetype with Agent Purvis clearly painted antagonistically and Dillinger as the hero. While this reflected the depression era where banks were themselves villains and Dillinger's exploits as a modern day Robin Hood, it remains to be seen whether such contention plays out throughout the film.

"He was a tough guy who killed people, absolutely, and that's how we show him," Mann concluded. "He wasn't a sweetheart. But he was charming as hell, and he knew how to manipulate people."

"Public Enemies" also stars the likes of Billy Crudup, Leelee Sobieski, Giovanni Ribisi, Channing Tatum, David Wenham, Stephen Dorff, Lili Taylor, Carey Mulligan, Rory Cochrane and opens July 1st