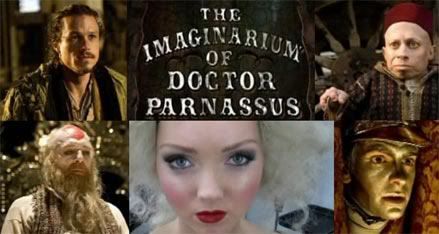 There's been basically three different reactions to Terry Gilliam's potentially beguiling, potentially bemusing "The Imaginarium of Doctor Parnassus" picture starring Heath Ledger in his last onscreen performance.

One super-effusive one that basically doesn't count (and amusingly even some trade writers have suggested the same), and then two others reactions that both suggest the film is "better than expected" and still, "befuddling."

The RiskyBiz Blog has basically been quizzing people who were at the early buyers screening in L.A. on Tuesday asking what they thought and whether they'd buy it or not.

The first question they posed to buyers, studio flacks and the privileged, lucky few was, "is it brilliant or is it muddled?" And they say the answer is constant: both. "Brilliant" is obviously the Biz's words and not necessarily the exact question posed to everyone, but still if it possesss brilliant qualities, that's surely the best sign we've heard so far. We're splitting hairs here or trolling for bits...


But what RiskyBiz really adds to the ongoing 'Parnassus' conversation about its commercial prospects and or viability, is: will it sell?

What is now clear is that, yes, buyers are interested. But, the that interest comes with a big caveat — price. With the economy and the film industry in the toilet, buyers are still wary and basically the interest is at an even keel. If it was amazing, someone would have shelled out dough for it already, but it appears the value of the film in the buyers/sellers market is unclear. Yes, it has the last appearance of Heath Ledger, but it seems obvious it's not a mainstream ace-in-the-hole (which it would never be, it's a Terry Gilliam film for crying out loud).

Want to know what kind of "size" movie it is? One studio speciality distributor who already passed on the film suggested Sony Pictures Classics would be a good home for the film which suggests limited release in NY/L.A. and then slow expansion from that point. Yes, this is obvious to many bloggers, writers and people in the industry; Terry Gilliam films are not home runs, but we're just giving a bit of perspective here. Some people are complaining, for example, that Duncan Jones' Sony Pictures Classics-driven "Moon" deserves a bigger release and perhaps it does, but even Jones and its star Sam Rockwell are much smaller names then Terry Gilliam and Heath Ledger at the end of the day.

Personally, we're big fans of SPC, they put out great pictures that are very-much in our wheelhouse. Maybe their films aren't in every theater across the country on they day of release, but that's probably a losing proposition considering what this country goes for on a weekly basis.

Ultimately, even those who have seen the picture, still don't know how much its worth, even to the core constituency. "Gilliam fans are tough to read," one buyer told the THR blog. "It's hard to say how many of them there are, and, among them, how many will come out and buy a ticket for a new movie."

Doesn't it feel like we're back to square one?