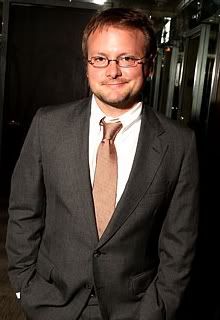 Director Rian Johnson has revealed several more tidbits to Vulture regarding his follow up to "The Brothers Bloom." The sci-fi project, known as "Looper," was previously reported to be about "modern day hit men whose victims are sent to them from a futuristic world."

"It's not like a 'I, Robot'–type thing. It's a very character-based film, and it's very violent and very dark," Johnson revealed. "It's set in the near future, and things are very bad in an industrial town in Kansas. The worst crime you can commit 30 years from now is messing with time travel, so the only people who will mess with it are big criminal groups. It's a weird mixture; it has elements of the first 'Terminator' and 'Witness,' bizarrely enough."

Johnson had also noted in past interviews that the film will:

- depict a dystopian society that has gone to hell
- deal with time travel as part of the setup but not as an active part of the ongoing story
- have events catalysed by a disruptive element that will have traveled back in time from even further in the future
- be "very dark, very violent" and "is the complete opposite of 'Brothers Bloom.'

This project sounds very interesting and with "Brick" and "The Brothers Bloom" under his belt, it will be fascinating to see what Johnson can conjure up next. Having said all that though, Johnson was still on a second draft of the script as of late April so changes may be aplenty. Oh, also don't call 'Brothers Bloom' "too clever for its own good" cause he'll scream.