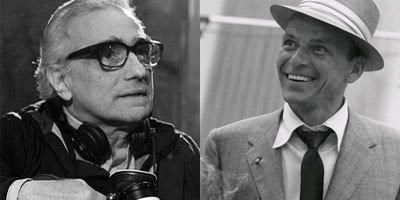 Damn, when it was rumored last May that Marty Scorsese was going to direct a biopic on Frank Sinatra we didn't really buy it.

Sure, it was based off claims from Sinatra's daughter, Tina, but she seemed to be talking out of turn and too early.

And it appears she was, as Variety has just reported that this project is a go for Universal and Manderlay Pictures and yes, it's simply titled, "Sinatra."

Apparently, after his 1998 death, both companies had been quietly acquiring the life rights to ol' blue eyes. Phil Alden Robinson, who wrote the Oscar-nominated screenplay for "Fields Of Dreams" — an ur-text of the three act structure sometimes studied in schools — among other things, is penning the script.

"It'll be almost like a collage," Mandalay Pictures' Cathy Schulman said of the script, suggesting echoes of what happened in Todd Haynes' "I'm Not There" film, where six different actors played Bob Dylan. "In the way one of his records captures different rhythms and moods, this will have collective scenes and moments that form the overall story as opposed to a conventional timeline. It's about capturing moments as opposed to trying to tell the entire story in too little time." Though note: only one actor is set to play the part, don't get it twisted.

Apparently, the Sinatra biopic will also give Scorsese a chance to show off parts of Dean Martin's life as THR reveals that the Italian-American filmmaker had been developing a biopic on Martin for over a decade called "Dino," which was written by "Casino" and "Goodfellas" writer Nicholas Pileggi.

No word on when this one is happening. Scorsese is currently filming his sure to be oatbran-fun, dry and austere Jesuit-priest picture "Silence" — last reports of which said Daniel Day-Lewis, Benicio Del Toro and Gael Garcia Bernal were starring — and also has a crime mob drama with DeNiro in development called, "I Heard You Paint Houses" (mob slang for contract killings). Plus, there's a documentary on George Harrison that we haven't heard any movement on in over a year (likely overextended, Scorsese ditched a Bob Marley doc in February of last year).