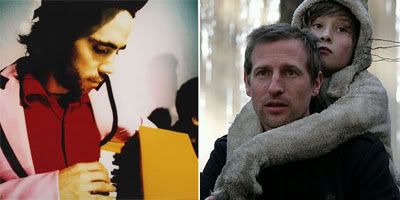 Note to lesser-known singer songwriters. Just because you write a song for a movie unsolicited, doesn't mean it's going to be used. In fact, chances are it won't.

Canadian Polaris Prize-winning, singer-songwriter Patrick Watson (songs recently features as the TIFF '08 theme song and the soundtrack to "American Teen") has learned that lesson when he wrote an eponymous song for the "Where The Wild Things Are" film, but it appears that it's been rejected by Spike Jonze.

"That's what I wrote it for," Watson told the Calgary Herald, which notes the song appears on his band's latest release Wooden Arms. "But I don't think Spike Jonze liked it. I just made a demo and sent it to him and said, 'Please put it in the film.' It was my favourite book as a kid -- I grew up with that. That was the purpose of writing it--I didn't even want it to go on the record. I'd just be happy to be on the trailer, to be honest. I'd be into that satisfaction."

Sorry dude, that ship has sailed. You can hear a snippet of the song here.

No matter, Watson's still dipping his toe into movies. Currently living in Montreal, he composed the entire soundtrack to the 2008 French-Canadian film, "C'est pas moi, je le jure!" Uhhh, in your face, Spike Jonze? Better luck next time dude. Your consolation prize is the fact that we thought your song was the best one featured in "American Teen" soundtrack. We're sure that will comfort you at night.