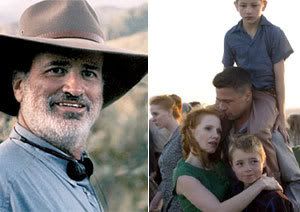 A new film by reclusive American auteur Terrence Malick is always an anticipated event and news of his latest film, the what-is-the-meaning-of-life-sounding, "Tree Of Life," starring Brad Pitt and Sean Penn rocketed up our list of most anticipated films for 2009.

However, when concrete info starting leaking about about the still-vague plot (essentially some kind of a father and son drama which is supposed to span an entire lifetime is about all anyone knows), the picture took on a much grander scope and many assumed it wouldn't be released until 2010.

There was actually two films being made, the drama "Tree Of Life," and a special-effects heavy, history of time film cum pseudo-nature-documentary supposedly called, "Voyage of Time." Sources in Austin, where Malick owns a home and often works, told us during SXSW that the filmmaker was doing reshoots on the film in March. That, the intense VFX and Malick's notoriously slow, working-at-his-own-pace clip, led many to believe 2010 would be the earliest we'd see his fifth feature in thirty six years (dude, really takes his time).

However, according to ScreenDaily, in an article about a Spanish company that has bought the distribution rights for Spain, Summit Entertainment plans to release the film in the U.S., "later this year." The plot is somewhat more illuminated by Screen Daily's description of the picture as, "a man who struggles to come to terms with a childhood torn apart by sickness, suffering and death."

Either way, great news. "Tree Of Life" due in 2009? No one would have guessed or put money on that one. The Oscar race is presumably going to be an incredibly strange one this year, as there's a distinct lack of "Frost/Nixon" "Benjamin Button" and other classical Academy fare type fare available, so perhaps Malick has a shot? Time will tell, but the news certainly bodes well.