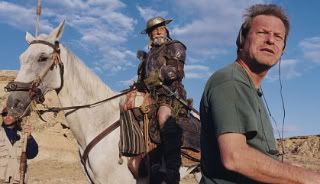 It's not really big or unknown news that Terry Gilliam's yearned to attempt a take two on his aborted, "The Man Who Killed Don Quixote" project that painfully collapsed back in 2000 (then was excruciatingly recounted in the 2002 documentary, "Lost In La Mancha").

He's been talking up the project in recent months and even said that work on a new script would be commencing soon. However, the project has been officially announced in the trades today lending it an air of lucid reality instead of simply one of Gilliam's fanciful aspirations (he's probably said he'd try the film again as far back as 2003, even around the release of 'La Mancha').

Apparently producer Jeremy Thomas and his Recorded Picture Co. shingle will help the director bring the almost-accursed vision to the screen (even Orson Welles failed to finish the story of Quixote). Tony Grisoni, who wrote Gilliam's last good film, "Fear and Loathing in Las Vegas," — and the original version of 'Quixote' that died — is re-writing the script again which bodes well (Variety says, Gilliam is writing it with him). Of his decade-long, mono-maniacal obsession with this project he said, "I'm not so much a filmmaker as someone who gets possessed by an idea and it doesn't leave me until I make the film. I commit myself to it so fully."


This is interesting and the news comes from Cannes, so perhaps mean some have seen "The Imaginarium of Doctor Parnassus," and feel Gilliam's work is becoming viable again? Perhaps? We're feeling optimistic.

Variety says Gilliam is in talks with Johnny Depp to again star in the film, as he did in the first abandoned version, but just yesterday — perhaps in a knowing tease to today's announcement — the filmmaker said that he would not wait around forever for Depp's schedule to open up. The trade also says the director — whose fortunes are finally looking up — is hoping to shoot the project in the spring of 2010.