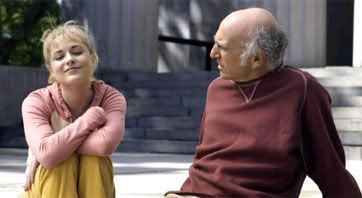 "This is not the feel good movie of the year," says Larry David, breaking the fourth wall in a very "Curb Your Enthusiasm"-like moment in this trailer to Woody Allen's upcoming new comedy, "Whatever Works." "So if you're one of those idiots who needs to feel good, eh, go get yourself a foot massage."

Can Larry David play anyone, but Larry David, ever? Does he even possess the faculties to play a character that's not himself? Sadly, doesn't look like it. Within about 35-seconds into this trailer and we're already annoyed and hey, we liked 'Curb,' but this definitely looks like minor-Allen work and the type of bumbling screwball bit that we just can't really endorse (at least not from the sight of the trailer, perhaps the film is more tolerable).

Whatever Works" is about "an eccentric New Yorker played by Larry David who abandons his upper-class life to lead a more bohemian existence. He meets a young girl from the South (Evan Rachel Wood) and her family (Ed Begley Jr., Patricia Clarkson), and no two people seem to get along in the entanglements that follow (i.e. hilarity is supposed to ensue). This comedy from legendary writer/director Woody Allen also stars Conleth Hill, and Michael McKean."

Whatever Works" comes out June 19, 2009 in limited release.