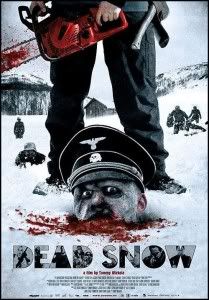 The trailer for "Dead Snow," the upcoming IFC Nazi/zombies comedy horror is out (we previewed it for June recently). And man, we guess "comedy/horror" sort of tips you off, but does it ever look like the tone and feel of Edgar Wright's "Shaun of The Dead," only with Norwegians and Nazis. Maybe at least one paycheck should be sent his way or copious thanks in the credits? Here's the synopsis:

A group of teenagers had all they needed for a successful ski vacation cabin, skis, snowmobile, toboggan, copious amounts of beer and a fertile mix of the sexes. Certainly, none of them anticipated not returning home alive! However, the Nazi-zombie battalion haunting the mountains had other plans.

The film comes out in limited release starting June 12. Director Tommy Wirkola is reportedly in talks to direct a movie about Hansel and Gretel as adults, produced by Will Ferrell and Adam McKay.