In a recent interview with io9, director Duncan Jones has spoken further about his proposed sci-fi project that will hark back to "Blade Runner."

Jones began by retracting the comparisons he made of his upcoming project - which he reveals is titled "Mute" - to the iconic Ridley Scott film: "The only reason that I mention 'Blade Runner' is because there's something about that particular film, where they really created a believable and realistic living breathing futuristic world...that's the aspect of 'Blade Runner' I'm hoping to capture." As this article's headline notes though, that ship has long sailed.

Nevertheless, Jones described the film noting that it will predominantly try explore the notion of humanity. "If you allow [science fiction] to be in the backdrop and not be what it's all about, then the humanity is what you're really concentrating on and looking at. You see why people are the way they are , and how they've maintained their humanity in these science-fiction settings. Or the opposite, why their humanity starts to be eroded. When they started to lose their humanity because of the world that they live in, and that's what this film is going to be about."

So character-wise how would "Mute" expand on his debut feature's immense character study? "First of all, there's more than one person," joked Jones. "But also there's a couple of villains in there which I'm really excited about. They're so different than anything you've seen. I hope I get the chance to make the film because they're going to be very unique, you're not going to have seen anyone like these two guys before."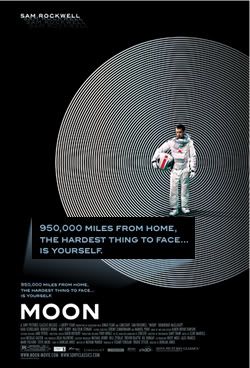 One of those villains the director had in mind was Sam Rockwell. "Mute" is actually Duncan's first script and he had hoped Rockwell would star as one of the these unique antagonists he's so psyched about. But Rockwell actually turned down the project, feeling like he had played too many villains at the time, but he and Duncan got on so well, the filmmaker wrote "Moon,' specifically in mind for the actor.

Jones said the "Mute" screenplay has "started to go out to actors" and that if "Moon" is successful enough to warrant further financial backing, "Mute" could get underway. But it's not his next project. Already lined up in the queue is, "Escape From The Deep," a film that centers that chronicles the miraculous survivors of a WWII navy submarine which malfunctioned and sank to the bottom of the Pacific.

"Moon" hits theaters in limited release next weekend on June 12.Here's the trailer if you missed it. We saw it at the SXSW film festival and while it is overrated by the sci-fi fanboys, it is still a worthy and admirable addition to the modern sci-fi cannon that you should see.