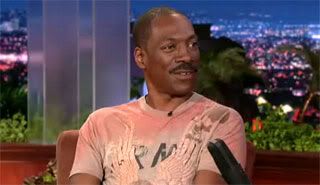 Spike Lee just got a little happier.

As Cinematical notes (but without quotes), Eddie Murphy was on The Tonight Show with Conan O'Brien last night (here's the video, beware: NBC's site has so many ads, you'll go nuts) and discussed various things (obviously he was on the show to promote his upcoming kid's comedy, "Imagine That").

What caught our ear, however was a discussion about James Brown where Conan suggested Murphy should play the late, hardest working man in showbiz. But Murphy suggested that Wesley Snipes -- who's long been set to play the role in a stagnating and currently unfunded Spike Lee biopic -- should play the role and went into a pretty genuine pitch, albeit with some backhanded compliments.


"I think Wesley Snipes could play a great James Brown. Really, Wesley Snipes is a wonderful act," Murphy said responding to Conan and the audiences slight disbelief (they laughed, but trained seals studio audiences think they're supposed to laugh at everything). "Before the karate movies and stuff when Wesley first got into the movies, he did drama and comedy, he does everything. And he turned into the action dude, but Wesley has all the talent... James Brown isn't just singing and splits, you gotta be able to act, you gotta get chased in a car in a crack haze and shot at. Wesley could pull that off, you need to be an actor."

What Spike Lee would really love to hear was Murphy's further passionate pleas for the project. Conan thought the idea sounded cool and suggested that Murphy should fund the project personally, to which he responded. "I should not have to put the money up," Murphy said adamantly suggesting that it's a shame no one has funded the project already. "They should make that movie with Wesley Snipes, tomorrow!"

Will these comments give the project anymore juice or studio interest? Seems unlikely, but Spike, if you're listening you should call Eddie now and try and convince him to take on a supporting role and one that shows off his dramatic chops. Maybe that'll help.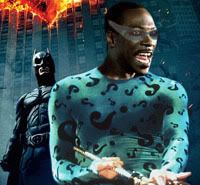 As for the rumors of Murphy playing the Riddler in whatever Christopher Nolan's third Batman film is? Yeah, not happening.

"I heard that rumor as well and i don't know anything about it. Whoever is really playing the Riddler is sitting at home calling his agent and saying, 'we need these rumors stopped.' ... I'd love to be in one of those 'Batman' movies," he said trailing off, but yeah. Don't get your hopes up.