OK, it's that time of the week again where you start counting down the hours and perhaps start to plan your movie-going weekend, that is if you're that type of person and you're reading this we presume you are.

The weekend — in terms of the weekly box-office battle — appears to be between "The Proposal," "Year One," and evidently Todd Phillips bros in Vegas "The Hangover," which apparently may have the staying power to keep audiences inebriated for one more weekend at the top. Phillips told Howard Stern this week that he has a personal "vendetta" that really makes him want to hold onto #1 again this weekend (thanks to the reader for the tip), but does Phillips strike one as the type who holds a grudge? Who do you think Phillips has issues with Harold Ramis? Ryan Reynolds? Our guess is its someone from the 'Proposal' camp, but maybe it has something to do with Jack Black and that "Man Witch" project that seems to have died after Black backed out? Who knows...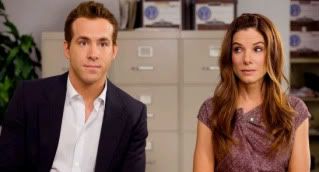 Let's start with the most mainstreamy! Our bet is the generic-looking rom-com "The Proposal," starring Ryan Reynolds and Sandra Bullock takes the #1 slot. It looks broad enough and dumb enough to appeal to the masses. Why Reynolds, who can be a decent actor when he wants to be — see "Adventureland" for recent example — continues to take on cheap work like this is baffling other than the need for a paycheck, but we presume he's doing ok. He might be doing it for semi-personal reasons, actually. The film is about a Canadian working in the U.S. (Bullock) whose visa expires and then coerces her U.S. co-worker — who she doesn't get along with — (Reynolds) to marry her so she can stay in the country (they eventually fall in love! Wow, never saw that coming!). Reynolds is ironically Canadian, so it's the reverse to him. Maybe there's something there. Either way it looks dreadfully standard-issue rom com. It has a very unremarkable 39% Rotten Tomatoes rating.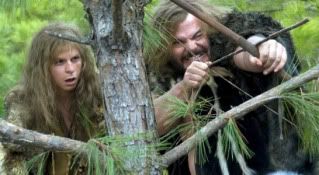 Next up is Harold Ramis' prehistoric broad comedy which takes a trip through the Bible. It stars Jack Black and Michael Cera as two buffoon hunters and gatherers exiled from their tribe, then forced to wander the earth and thus run into Cain and Abel and other Biblical stories. Most people assumed we loathed it, but its too amiable and ineffectual to be hated. Its simply just not amusing, full of dick, poo and unfunny fart jokes, improved to death and slapped together — a bunch of lame skits about the Bible and neanderthals affixed together with tape and glue. The critical consensus seems to agree, it has an incredibly low 20% on Rotten Tomatoes which is one of the lowest scores a Judd Apatow related comedy has received in the last four years (ouch, when "The Proposal" has a better rating than "Year One," then you really know you're in trouble. Even "Drillbit Taylor" has a 26% rating and that was definitely for a PG audience).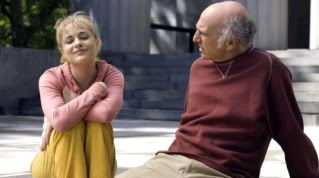 The Limited Release field is... not that great this weekend from what we can tell. The biggest film, but not most successful is Woody Allen's 40th (39? There's some debate) film "Whatever Works," starring Larry David as the prerequisite Allen surrogate only this time so much more darker, cynical and misanthropic than usual. This makes sense considering the film was written in his classic '70s heyday, but was then shelved when its intended star Zero Mostel died. But its far from a classic. Anachronistic? A little, as the existential woes throughout feel like a bygone Woody era, but the story was contemporized slightly before shooting started. What would have been a more interesting experiment — considering Allen's made 40 films now and should have earned some leeway to fuck around a bit — would have been to not update it at all and see how a found artifact from the '70s played now. The language feels a little bit too overwritten for Larry David and though there are some great one-liners and certainly some sharp laughs, overall its not entirely successful and in many respects, forgettable. Certainly better than Woody's pre-"Match Point" comedies of the early aughts ("Curse of The Jade Scorpion," et al.), but that's also not saying a ton. We (I) personally took the title to heart and enjoyed what we could out of it and liked it slightly better than our reviewer Sam did, but it's certainly not fantastic and we can agree on that. Critics also agree, it has mixed 53% rating which is far from stellar.


We're not an expert on anything else. We haven't had time to see the Norwegian-made "Dead Snow," yet; the indie sub-sub-genre of the Nazi zombie movie that opens in limited release and it has an ok, but not fantastic, 62% rating on RT. It looked Edgar Wright-ian to us from the looks of the serio-comic trailer. Presumably geeks will love and others might be mixed? We'll see it soon.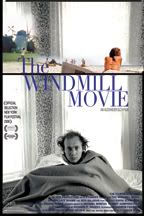 The claymation film "$9.99" has a strong 86% rating, but for whatever reason, we have zero interest (but admittedly, we're judging books by covers and have no idea what it's really about). Other films opening up in limited release include, "DJ Spooky's Rebirth of a Nation" which should speak for itself, but is a "remix" of D.W. Griffith's classic and very-racist, "Birth Of A Nation," the eco-documentary, "End Of The Line," Henry Jaglom's "Irene In Time," which is simply because interesting because of Jaglom, an indie director with limited success who befriended Orson Welles before his death, becoming the surrogate patron of the fallen director after Peter Bogdanovich got bored, had his fill or found himself to no longer be useful to the always mercurial Welles. Other films include, "Superstar" by Iranian film director Tahmineh Milani, "Under Our Skin," and film we really wanted to see at last year's New York Film Festival, but missed called, "The Windmill Movie," which sounds like an interesting personal experiment. Essentially filmmaker Richard P. Rogers ('70s films "Quarry" and "Elephants"), gifted film teacher, but tortured, neurotic soul, decided to make a narcissistic, autobiographical documentary about himself and his personal failings. However Rogers died before he could complete his opus so one of his students, Alexander Olch, decided to take up the documentary, turn the camera on himself and finish what has now become, "The Windmill Movie." It only has a 67% rating on RT, but there's only 9 reviews and it sounds like a curiously interesting experiment to us.

Good luck out there.