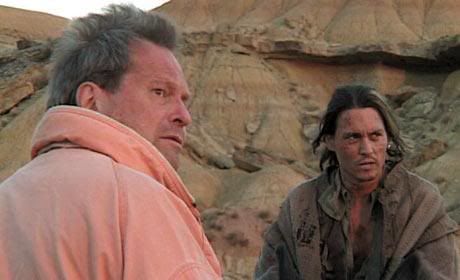 And the saga of Terry Gilliam and his "The Man Who Killed Don Quixote" continues with the surmounting obstacles. The project's former lead, Johnny Depp, has come out and revealed that any attempt from Gilliam to revive the project will have to do so without his involvement, according to CHUD.

"I love Terry and I'd do personally anything the guy wants to do," Depp said. "The thing with 'Quixote' is that my dance card is pretty nutty for the next couple of years, so I'd hate to put him in a position to wait for me. That would be wrong."

"We went there and tried for something and whatever it was - the elements and whatever got up beneath us were there and were documented well in that film 'Lost in La Mancha.' I don't know if it's right for me to go back there," Depp said, sounding almost afraid of the 'La Mancha' curse.

Gilliam won't be too shattered though. Just last month, the director spoke of a reignited desire to return to the project with or without Depp. The project's revival was even announced by the trades during Cannes and revealed that the script was being rewritten by Gilliam and his "Fear And Loathing In Las Vegas" scribe Tony Grisoni with a spring 2010 shoot in mind. Whether or not that comes to fruition remains to be seen - Gilliam also has the Billy Bob Thornton led "Zero Theorem" in the works. But where's Heath Ledger when you need him? (RIP). Hopefully, Gilliam can find a replacement with enough lead male cache, but please, no Sam Worthington and Brad Pitt doesn't seem to be a sure bet these days.