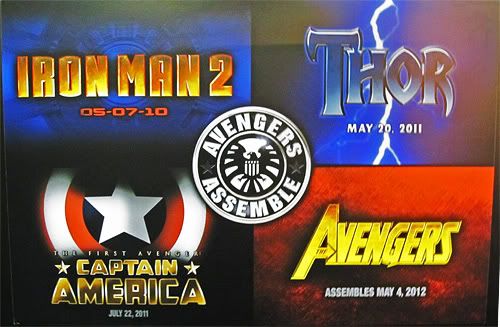 According to Marvel Studios chief Kevin Feige, the operation hopes to expand their roster by releasing four films a year.

"If the films keep succeeding there will be a well from which to pull financing to make two films, three films, four films a year. The question is what those films are going to be. How much are they going to cannibalize the whole notion of a Marvel movie."

Pretty optimistic since they're averaging about one film a year so far. Let's hope they remember to keep quality over quantity, but then again these are all big "if's" contingent on big success from all these films.

Meanwhile, talk of Will Smith playing Captain America persists....sort of. When asked about the actor, Feige says. "I think Will Smith is probably one of those handful of international stars," which in a way means nothing.

An African American super patriot hero who lived through some of the U.S.'s worst eras of racism? Yeah, its an Obama year and all, but we're not sure how this would be remotely plausible.


Those worried about "Thor," and the crippled Donald Blake alter-ego slowing down the action, Feige says don't worry, that character won't be in the film (though he confirms Chris Hemsworth as Thor in case you were wondering). Sounds like Asgard all the time. As much as this Marvel prez sounds optimistic, he also sounds very realistic which is a good thing. He concedes to the fact that yes, Samuel L. Jackson is signed on for nine films, but that's if nine films actually happen. "You have to keep in mind that that's if everything happens perfectly and every movie is a hit and everything works it could be a grand total of nine," he says. "The Avengers" outline by Zak Penn is apparently being started this summer, but the storylines that hit before it ("Iron Man 2," "Captain America," "Thor") will all inform the film so nothing concrete will be worked on until later. As for the return of The Hulk for "The Avengers" film? "I think it'd be cool. I'd like to see The Hulk again," is about all Feige can muster. Let's pencil that in as a "maybe" for now and it might depend on if Edward Norton is cool with Marvel two years from now.

/Film correctly asks. With at least eight costumed hero films (some of them D.C. Comics films t0o) hitting between now and 2012 and Marvel wanting to add potentially four more a year, aren't audiences going to start feeling super hero fatigue? The answer is, eventually yes. Studios always strike when the iron is hot, but there's always a breaking point when audiences tire and reject the deluge they're offered. Either that or crankin' 'em out will force a loss in quality control which will turn audiences further. Frankly, we'd let super hero films have their day before reboots and remakes which have gotta stop.
[UGO/ via /Film]