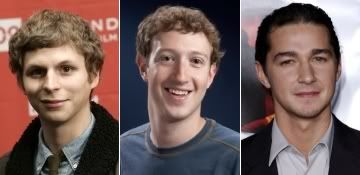 According to CNET and their "entertainment industry sources," the newly announced, possibly David Fincher-helmed, Aaron Sorkin-scribed project "The Social Network" is reportedly courting Michael Cera and Shia LaBeouf for the role of the protagonist, Facebook creator Mark Zuckerberg.

Cera is apparently the top choice for the role due to the fact that "audiences find him particularly likable" and the belief he will be able to draw sympathy to the unfavorable, obnoxious nerd that Zuckerberg's character is rumored to be portrayed as. The CNet writer then makes a personal case for LaBeouf citing that he "really does sound a lot like Zuckerberg." Apparently many younger actors are being eyed also (well, duh), but this report doesn't name them.

Cera and Labeouf? Come on, you didn't even use your imagination for that one. CNET have nothing to lose though, if they're wrong -- who cares, they're an tech site and who expects them to have entertainment industry sources anyway -- but if they're right, they look likes geniuses. We will admit though, both Cera and LaBeouf would probably make great leads for the project and do pass as Zuckerberg look-wise. Cera could also use a dramatic turn to switch up the monotony of his samey performances, but one thing: If David Fincher made Jake Gyllenhaal's life a living hell on the set of "Zodiac" (incessant takes, berating him about not bringing his A-game), wouldn't Fincher eat Cera alive?