Alright, we finally finished Steve Zaillian's ("Schindler's List") December 2008 draft of "Moneyball," the adaptation of the 2003 best-seller about Oakland A's General Manager Billy Beane who helped revolutionize baseball thinking via a new method of analyzing statistics.

The would-be Steven Soderbergh directed baseball metrics drama starring Brad Pitt(as Beane) Demetri Martin (as a young, Harvard graduate baseball stats nerd), and many real-life baseball players was obviously shelved earlier this week supposedly because Steven Soderbergh's new draft -- apparently handed in at the last minute -- veered far too drastically away from the Zaillian draft.

However, having finished the script, this claims seems to be more and more like an excuse.

It's well written, moves like a shark and very entertaining: the lothario, no-nonsense Billy Beane trades girlfriends like he trades players (which "always makes him feel better"), baseball thinks he's nuts for following "Fantasy Baseball logic" and the A's are constantly skating by on the skin of their teeth. The bargain-basement, nearly inept players are pretty amusing too and range from scared alcoholics (Jeremy Giambi's "don't hit it to me, don't hit it to me"), to aging pros (David Justice) to timid ex-catchers forced to play first base (Scott Hatteberg, who sighs relief everytime his name is not on the daily roster).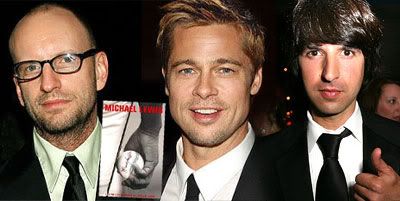 However, as much as "Moneyball," is a fine script, with sharp characters, it's not really a major studio movie by today's standards and feels like one of those odd and quirky '70s films that would never play now (like "Straight Time" or the original "Taking Of the Pelham 123"). The stakes are too low and it feels like something you'd see as an HBO film or even small-part mini-series, not something you'd see in theaters today where things like Tony Scott, aggro-redos seem to be the flicks du jour. We're not moguls or anything either, but a $57 million pricetag also seems to be way exorbitant for what's in the script.

It feels like Amy Pascal at Sony just realized when she, re-read Soderbergh's draft, just how uncommercial the project was, perhaps because it was just days away from shooting, decided, "what was I thinking?" That doesn't mean we're shitting on the project or don't want to see it happen, the exact opposite in fact, but it really feels like a difficult sell. Especially considering the films Sony normally puts out. This would be their low-key, chatty, personal-politics baseball drama. As said before, there are no real villains in the story and the obstacles aren't really the stuff of traditional feature films (Sony being a traditional studio). That said, the film zips around from location to location and different eras and a filmmaker like Soderbergh could make the experience pretty memorable with an "Oceans" -like pep if he so wished. We're just not sure it's a movie for the major leagues (and as we wrote earlier this week, we're not baseball experts at all and it's still enjoyable and comprehensible, which does say a lot about the script's appeal).

As David Poland also said a few days ago. "All the chatter about all the things that are wrong about the film... all were in the script delivered long before last week." Still, we're dying to read Soderbergh's draft to find out just how dramatically different it supposedly is. Our hunch is not as radical as some would say, but will we ever find out? It probably should have leaked by now, no?

Finally, one conspiracy theory out there (via a comment section remark eyeballed by MovieLine) is simply mismanagement of the project in that Sony did not get the approval of Major League Baseball for this new draft , and that's why they had to pull the breaks.
Soderbergh's script was **not completely different than what the studio was aware of. Pascal is stuck because she did all this on Friday not realizing she didn't get MLB approval for the project EVER. without MLB approval they can't make the movie (yes, someone in business affairs screwed up) MLB only approved Soderbergh's version of the script and not the May 1 script turned in by Zaillian. Pascal greenlit this movie at 70 million, Soderbergh brough the budget down by 13 million (partly by reducing his fee, so he would be making less than what David Frankel was going to be made as well as getting Brad to reduce his fee by 9 million)
We don't necessarily buy this, but again, we wouldn't be surprised if Soderbergh's draft is nothing worth torpedoing. It was likely just a reminder to an exec who has 10 million other things on her plate and went, "Wait, we're paying $57 million dollars for this and we've spent $10 million+ already?!" The ball, as it were, is still apparently in Sony's glove, but sadly, we won't be surprised if this project just quietly goes away.

It's sad for music fans too as you would have heard a lot of '80s, booze-soaked alt-rock like Social Distortion, The Replacements, Paul Westerberg, Husker Du and groups like The Who ("Won't Get Fooled Again" of course) and Oasis -- "Live Forever" which was supposed to bitter sweetly close out the picture and remind Billy Beane and perhaps, everyone, that baseball glory is a young man's game.