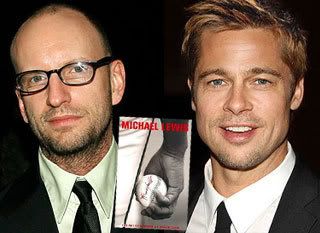 Brad Pitt has notorious buyers remorse on film projects he suits up for. The actor dropped out of "The Fountain," "State of Play," "The Fighter" in various degrees of last minute scenarios (Aronofsky's project being the most infamous) and many within the film community, including us, have been speculating amongst ourselves asking, "Was it Brad Pitt that killed Steven Soderbergh's "Moneyball"? Was it Brad Pitt?"

Last night, David Poland asked, "what's the real story here?," but admittedly didn't have the answer. Now, he says he does. Sorta. According to his new report (no, sources though and all he credits is the "spin out of Sony"), Pascal took the fall so Pitt wouldn't look bad backing out of the project. According to Poland, it was Pitt who didn't like Soderbergh's revisions. Read any message board or comment sections on the web today and you'll have already read plenty of this kind of conjecture. Many people assumed as much.

"As eluded to, but perhaps not with direct intent, the new spin out of the Sony camp on Moneyball is that

Brad Pitt

disliked the new script as much as

Amy Pascal

and that he is the one who secretly sunk the ship, though he didn't want to be seen as doing it."
Though it's hard to say where Poland is getting this because right after that he says, "This is, actually, a more plausible bit of spin than the previous efforts. But one still has to wonder, what is the real truth?"
Sounds plausible as this is basically what everyone's been thinking all day, but
is it the

real

story?
Sounds like he's not entirely convinced either.
Maybe we'll never know at this point, but if that

is

the case, you can bet "

Moneyball

" is dead for good. And perhaps if we finally hear once and for all its Soderbergh's project

is

canned, maybe the traces of Pitt's cold feet will be all over the body.



Update:

Anne Thompson is getting wind of another story that counters Poland's. "I'm hearing from Pitt's camp... They say he was ready to make Soderbergh's movie. It's hard to imagine Pitt agreeing to make the movie with another director at this point. It would have to be Soderbergh or no one. I buy the idea that Pascal was demanding certain changes that Pitt and Soderbergh refused to make and threw her foot down, perfectly willing to walk away."
But of course Pitt's people are going to say that. Not saying Thompson's report, which is similar to the original, i.e. Sony pulled the plug, is at all untrue, but at this point, we may never know as certainly many conflicting stories will arrive and it'll be hard to believe anyone, even if they are telling the truth.
We still want that new script and are still guessing, "Moneyball" is totally dead.
Paramount

might have been a home and or option for the filmmakers before Friday, but now this seems like a stretch.
Originally published 6.23.09. at 5:53 p.m. EST