Last we heard about Jonah Hill's "The Adventurer's Handbook" — a spec-script co-written with Max Winkler and Matt Spicer — the screenplay had been sold to Universal for seven figures and Akiva Schaffer, known for his SNL Lonely Island skits with Andy Samberg and Jorma Taccone was in negotiations to direct (and Jason Schwartzman c0-starring alongside Hill).

But looks like Schaffer is out and according to an L.A. Times article about Universal and its relationship and deals with Apatow and his buddies, Nick Stoller — director of "Forgetting Sarah Marshall" — has got the gig. Apparently the production will start shooting next March.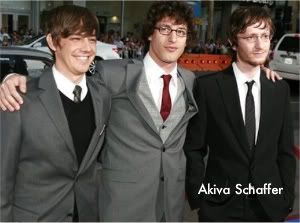 Update: Geez, if you can't trust the L.A. fucking Times? Who can you trust? Or as Matt Spicer just said, who emailed to correct this story and rightly slap us on the wrist, "Maybe that's why they're going out of business." Fuck a stupid duck for us actually believing a report written by the L.A. Times. So yeah, Stoller has nothing to do with this. In other news, Akiva Schaffer is now confirmed as the director of this project. Excuse us while we dunk our head in the toilet and then book a one way ticket to the office of Times writer Claudia Eller.

"The Adventurer's Handbook" is a comedy about a group of friends who become inspired by the hardcore explorers profiled in Mick Conefrey's similarly titled non-fiction guide, and go on a global adventure, following the rules outlined in the guide.

On a side note, the L.A. Times says, Universal is "deep" in development of sequels to the 'Bourne' series, "Wanted" and yet another "Fast & Furious," but geez, maybe that's false too, ugh.