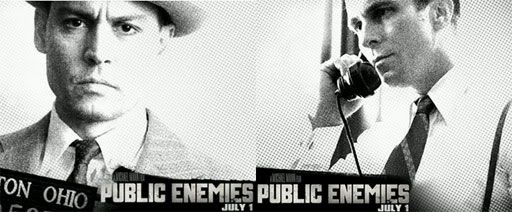 Here's an interesting story for you that you can read into all you like (or maybe we'll do that). First off there's a bunch of new photos from Michael Mann's"Public Enemies" floating around the web, you can see larger and more versions over at OhNoTheyDidnt.

Secondly and more importantly, Mann's 1930s gangster picture/upcoming potential summer blockbuster starring Johnny Depp, Christian Bale and Marion Cotillard recently hit a minor stumbling block when New York Post lunkhead, Lou Lumenick, jumped the gun and wrote an extremely early (and unfavorable, no "trashing") review of the film (it doesn't come out until July 1).


Many have noted that Universal are having a tough time this summer and are in desperate need of a hit because "Land of The Lost" and other projects of theirs have tanked at the box-office. There seems to be debate over whether "Brüno" will perform up to expectations as well. Well, not only did Universal smack down Lumenick and force him to mostly redact and pull down most of his review, they also asked (forced?) Jeffrey Wells to take down his blog post about Lou's review which quoted it liberally (man, even the cache version of both posts are MIA on Google, though Google searches do turn up Lumenick's critique of ""Curiously uninvolving").

Update: Vulture have found parts of his review via their RSS. Hey, if they can post it...

New York Post critic Lou Lumenick has given Michael Mann's Public Enemies the back of his hand. "Curiously uninvolving," he says. There will be "reflexive raves," he allows, but no Oscar action outside of tech noms. The only real plusses, he says, are "some of the best choreographed machine-gun battles ever and some eye-popping art direction." Lumenick is pretty much a Mann hater, calling him "the most overrated auteur currently working in Hollywood," so take this with a grain. I thought there was an embargo in place on Public Enemies until next Tuesday ... no? "Disappointingly, I think Michael Mann's much-anticipated Public Enemies' — which ...

It's well within their rights, but it's one review, and man, Universal are apparently taking this

really

seriously. Call us crazy, but nervous much? The comments section of that post lit up like wildfire. Many seemed to rush to Mann's defense and noted that Lumenick was a notorious "Mann-hater" and

InContention

's Kris Tapley in particular was pretty vocal, refuting the Post crit's review by calling "Public Enemies," the "Mann's best film since '

The Insider

'."

We can't speak to that cause we haven't seen it, but it was interesting to see a wave of commenters campaigning against the embargo-busting Lumenick. Sure, he's a dick (who also spoiled "

Seven Pounds

," not that many seemed to really care), but we didn't know there was such an army of Mann constituents out there seemingly desperate to snuff out and discredit his review, hours before Universal even got wind of it (and we don't mean Tapley). Maybe there's lots of hope still and Uni shouldn't be worried? Anyhow, we found it pretty curious and interesting...
Here's a new clip of "Public Enemies" making the rounds.
Two more clips can be seen here.