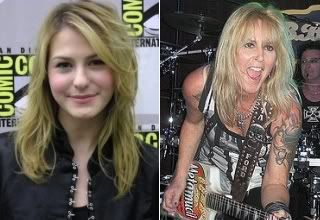 Despite previously unveiling Alessandra Torresani as Lita Ford in the upcoming biopic "The Runaways," news hits today that young actress Scout Taylor-Compton will now portray the band's guitarist, Ford, with Torresani possibly moving to the role of Jackie Fox, one of the band's many short-lived bass guitarists.

"I'm playing Lita Ford," Torresani previously announced. "She's the most incredible woman. I'm getting to meet her very soon, so that'll be amazing."

That was until Taylor-Compton announced via her Myspace today that she will, in fact, be joining the upcoming biopic as Ford while speculation has it Torresani may now be portraying Jackie Fox though nothing about it was in Variety's announcement of Compton's acquisition.

One possible reason for the line up change is the fact Taylor-Compton is actually an aspiring musician who can sing and play guitar. Adversely, Torresani had previously revealed she just was beginning music lessons for the role. "I learn the guitar starting [Monday], so that'll be interesting," Torresani noted. "I'm very nervous about it."

"The Runaways" is expected to be released in 2010.