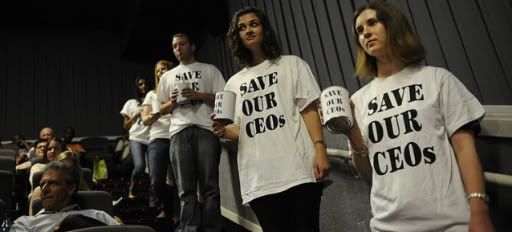 Update: Images of the incident have appeared on the Washington Post. Read below to hear what happened (the the Post photos are from a theater in Georgetown, Washington, D.C.).

Ok, there's not a lot to this one and we're slightly puzzled that this is the first way Michael Moore steps out with his new, still untitled financial meltdown documentary, but we suppose it does the job of getting the word out there. But no footage from the actual film? It's not like Michael Moore himself is going to win over the large community of naysayers and detractors that seem to loathe him so much they've seemingly convinced the average everyday man that he's some radical left winger not worth paying attention to (or going out to see sharp, poignant works like "Sicko" that everyone decided to not bother with cause "Transformers" or some shit was playing instead). Sure, we'll go see it, so will his small group of constituents, and yes appealing satirically to the Joe-Schmoes wallet is smart, but one would think Moore would try and remove himself and put the focus on the how your savings were essentially pillaged earlier this year (we know ours sure were). We're not sure it's an ego thing either. We met the dude once and he's seriously one of the best interview experiences we've ever had -- it was more like a one on one hang -- but we're not totally convinced this is the best method to reach out to an audience that was ubiquitously affected by the "Wall Street greed." Hopefully, another trailer delivers more bite as Moore is really fantastic at portraying political situations in layman's terms that can speak to and outrage the average person if they're willing to listen.


The New York Screening Of The Teaser-Trailer
Then again, the pleebs can be aggressively retarded. This teaser wryly (with dripping sarcasm) asks the audience to donate money to our ailing financial institutions. "Ushers will be coming down the aisles to collect your donations for Citibank, Bank of America, AIG, Goldman Sachs, JP Morgan, and a host of other needy banks and corporations. Won't you please give generously?" And then in a New York theater, where such a trailer screened (via Jeff Wells), kids in white shirts that read, "Save Our CEOs," came down the aisles to collect money, and Jesus H. Christ, people actually gave donated their dollars, which is just... wow, the level of stupidity is astounding... beyond comprehension (This wasn't in middle America either, this was in New York for fuck's sake). It actually makes us want to weep. If Moore gets wind of this shit, he'll probably give up.

Maybe all is lost. The doc hits theaters October 2 via Paramount Vantage and Overture Films.