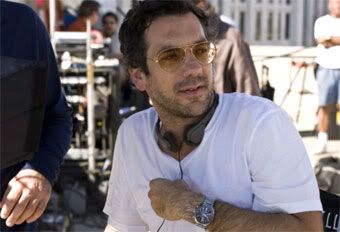 "The Hangover" director Todd Phillips reminds all of us, "People think IMDB is 'The Wall Street Journal': it's not."

In a recent interview with ComingSoon, the comedy director par excellence took the questionnaire sheet from a reporter (or buddy Ed Douglas) and actually started crossing off projects that the interviewer took from IMDB and meant to ask questions about. Phillips also reiterated once again that "The Hangover 2" is not greenlit, and basically said, don't believe everything you read (except for this blog of course).

"The Golden Tux" - A comedy about a loner and the friendship he forms with the guy he hires to pose as the best man at his upcoming wedding.
Phillips: "Well, it's just stuck at The Weinstein Company. It was a great idea, and it's time has passed honestly. It was a great idea. But these do exist I will say, but you have to understand I also have a production deal at Warner Brothers so a lot of these things are just me as a producer and working like, "Hey, maybe Jody Hill will do that." It's about finding a guy that... nothing there, by the way. So that stuff in development is also as a production company."

"Psycho Funky Chimp" - a 26 year old who buys the rarest PEZ dispenser in the world, the Psycho Funky Chimp (a fictional PEZ dispenser) and written by Michael Bacall who wrote "Scott Pilgrim Vs. The World" and had a small cameo as one of the lesser Basterds in Tarantino's "Inglourious Basterds."
Phillips: "[This] is the perfect example, that's for a different director."

"Old School 2" - i.e. not anytime soon, however a script has been written (god, we'd love to get our hands on that, hint!)
Phillips: "Yeah, for the planets all to align for that to work, it doesn't look like it's in the cards in the near future right now. Which is a bummer 'cause we wrote a great script and I love those guys so much, but it's hard to wrangle that kind of star power into one movie and make it work and make it for a price, quite honestly."

"The Fix-Up" - A government agent tries to patch things up with a guy who was falsely accused of a crime.
Phillips makes no comment, but ComingSoon notes he crosses it off his IMDB list.

Alright, whoever runs IMDB, are you taking this shit off the page or what? PS, "The Hangover" was (mostly) pretty great, review soon.