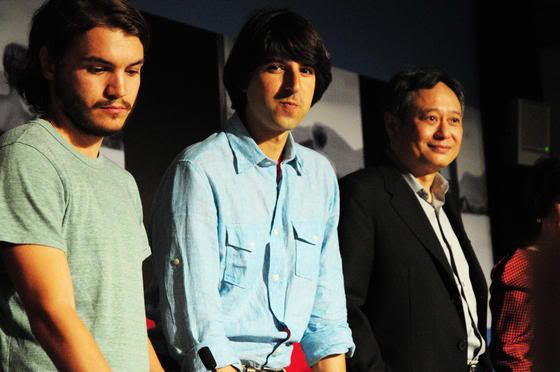 Woodstock festival director Michael Lang has cast a cloud of skepticism over Ang Lee's upcoming "Taking Woodstock" by revealing that much of Eliot Tiber's recollections, which Lee's film is based on, is "pretty much nonsense."

Jeffrey Wells reports that, at an interview session for the Blu-ray and DVD release of "Woodstock: 3 Days of Peace & Music," Lang proclaimed that "Eliot's recollections are pretty much nonsense past the phone call that he made to me. He called me - that's true. He called my office, spoke to my assistant Tisha. We went up to see him. He gave me this guy Morris Abrams, a real estate agent to go around and look for other land and that's how we found Max [Yasgur]. That was really his only involvement. He didn't know Max, Max didn't know him. The rest of it is pretty much nonsense."

In the film, Tiber is portrayed by comedian-turned-actor Demetri Martin while Jonathan Groff plays Lang.


"["Taking Woodstock"] is a book that [Tiber] has written three times," Lang added. "And what resonates, I think, is that sort of sincere stuff about how he raised his parents, what that relationship with them was like, and what he was feeling because of being closeted...living that other life. And what happened when we descended on that town and on his motel. That part of it is accurate. The rest of it is what he would have liked it to be....given his druthers."

Further, Lang recalls the discussion he had with director Lee regarding Tiber's inaccuracies. Lee seemingly acknowledges that Tiber's story may not be totally truthful by responding that his goal was simply to use Eliot's recollections as a doorway to explore the sensibility of what Woodstock was and what it means today. Lang added that Lee was particularly intrigued by the relationship between Tiber and his parents though and felt it was one of the stronger motivations for Lee to make the film.

We saw "Taking Woodstock" at Cannes and thought that despite being "much more innocuous than similar period, age stories," the film was still "spirited" with "a warm-hearted essence to the picture that perhaps captures the soul of the peace and love generation." That said, it was mild doobage and a minor, somewhat forgettable work by Ang Lee. Will this news hurt the film further? It remains to be seen, but's probably going to be an uphill struggle for the film to find traction unless the 40th anniversary of Woodstock happening this summer somehow entices the zeitgeist again.

The film will hit theatres August 14th.