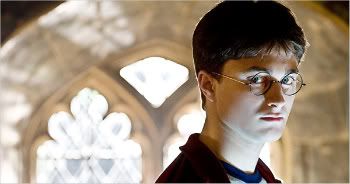 Jesus, "Harry Potter & The Half Blood Prince" is doing gangbuster numbers at the box-office.

After its first full day of release (yesterday, July 15), the sixth installment of the wizards n' kids franchise has grossed a whopping $58.4 million in the U.S. according to the trades. The film grossed $22.2 million in midnight screenings alone (yet another broken record).

It's the second-highest Wednesday gross ever, just a tad shy of the the $62 million total that "Transformers: Revenge of the Fallen" hoovered up in late June (IQ's were also reportedly sucked bone dry as well).

Some are predicting by the end of the weekend, 'Half Blood Prince,' will have grossed $96 million in North America (Nikki Finke says $200 million??, but all of her predictions shoot over by miles -- last week she changed her "Bruno" predix when she said, "$50 million opening??") However, internationally? The film set a world record today, taking in $104 million globally. The highest one-day release total ever. Warner Bros. is fucking ecstatic. Maybe Potter will pay for Zack Snyder's expensive dud earlier this year. 'Potter'-mania is in full force and the film set crazy records in Japan today as well.

Man, the previous film, "Harry Potter and the Order of the Phoenix," eventually grossed $937 million worldwide. That's nutty money. Your editor never saw 'Half Blood Prince,' but one of the Playlist contribs did and loved it. We keep hearing tons of great word of mouth too. Critical consensus is high as well. The film has an 87% Rotten Tomatoes rating which is nothing to sneeze at either.