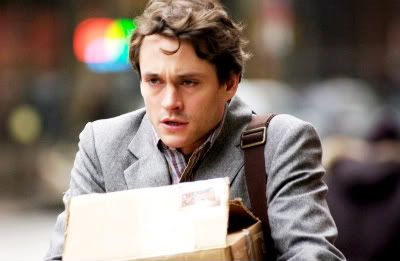 After toiling in the world of theater and television for years, writer/director Max Meyer has finally come onto the film scene with his feature debut, "Adam," which is a simple story about a lonely electrical engineer with Asperger Syndrome who, for the first time, experiences a romantic connection with his neighbor.


The tone of the film came as somewhat of a surprise to us, since the small marketing campaign seemed to sell the film as a romantic comedy set around a series of tragic events, a la "Garden State." Though it is true that the film does carry some semblance of a romantic comedy, as the Asperger Syndrome inflicted protagonist, Adam, struggles to interact with his
new neighbor
Beth, who happens to be a beautiful, aspiring child literature author (played by Rose Byrne), the film does initially result in a good amount of awkward-moment humor, but as a whole is a somewhat depressing look into the daily hardships of those with Asperger syndrome and those that love them.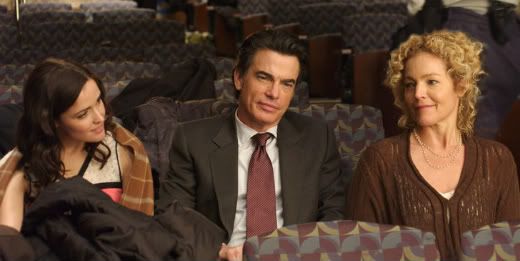 Spoiler Alert-Some Plot Details Exposed:

When we first meet Adam,who is played wonderfully by British actor Hugh Dancy in his first non-heart throb role, he is returning from what we presume to be his father's
funeral while we follow him as he struggles to adjust to the foreign idea of life on his own. As this slow-paced first act rolls along, we slowly pick up information about Adam's backstory, not to mention the presence of a cute young girl moving into hi
s apartment building. As Beth, who is unaware of
Adams situation, attempts to flirt with Adam, who does not reciprocate the flirtatious banter because he simply not understand the concept, she becomes more and more discouraged by
Adam's lack of interest.

Meanwhile, we see Beth struggling to have an honest conversation with her affluent and sleazy father (played, of course, by Peter Gallagher), who wants nothing more than to marry her off to a wealthy investment banker, but who is also facing potential jail-time for unethical accounting practices.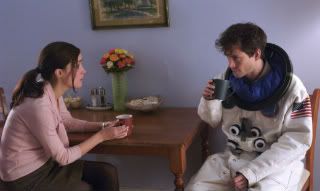 At the beckoning of his only friend, an older acquaintance of his father, Adam finally asks Beth out, and while she is at first taken aback by his bluntness towards topics such as sexual arousal, her attitude towa
rds him soften once she learns of his syndrome, which prohibits him from reading subtle human emotions. Against the counsel from those around her, Beth becomes romantically involved with Adam, which is FINALLY where the film picks up steam and begins to walk the line between a cute romance story and a stark look into the problems of those with the debilitating syndrome
face when attempting to function in a normal social setting.


Aft
e
r b
eing laid off from his job as an electrical engineer for a toy company, Adam, whose intelligence lies somewh
ere on the geniu
s spectrum, gets an interview for a job dealing with his true love, astronomy. When he hints tha
t he usually implodes under the high pressure interactions of job interviews, Beth tenderly "coaches" Adam on how to act and react in an interview setting, literally instructing him on how to recreate emotions. These touching sequences really underline the "nurse" role that Beth undertakes in order to date Adam, and is also really where the film finds its rhythm.

As t
he relationship progresses and Beth's father's legal troubles become more severe, we begin to see why
Adam has struggled to maintain a relationship in the past. He is incapable of expressing sympathy for Beth
while she struggles with the reality of her father going to prison, as he simply cannot see the tragedy of the situation, driving a wedge between him and Beth that will only dig deeper and further split them apart.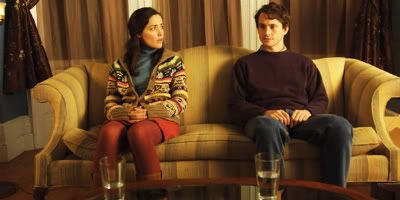 Following a particularly violent outburst by Adam, Beth abandons him and retreats to her parents home in Westchester to be with her father in his last few free days. What follows is a touching scene where Adam, who has never left New York City on his own, treks up to Westchester to apologize to Beth and winds up instigating an intense confrontation between Beth and her father. After the fight, Adam reveals he has received an offer for the job of his dreams in California, but needs Beth to move with him. Initially agreeing to make the move, Beth begins to doubt her decision and crumbles under the pressure of her "babysitter" role. This is where the film really
departs from the usual conventions of the romantic genre, as Beth decides she cannot stay with Adam, who surprisingly makes the decision to move anyway. The film picks up a year later as Adam, sans Beth is flourishing as an engineer working in an observatory.


To see someone like Adam finally connect with someone, then have it all go slowly wrong, was not exactly an easy thing to watch and the pace of the first half was a tad slow, but we have a hard time faulting someone for not pulling punches and painting a realistic portrait of lonely life. We must say that the ending, despite the fact Adams ends up alone, was somehow more uplifting than when he was in the midst of his relationship. Even though it was a feature debut, Mayer's film feels mature while his minimalistic directorial style lets the characters move freely in the frame, giving "Adam" an extremely natural setting, letting the audience feel as if they were watching actual people suffer through the events, forcing them to go along with the perpetual ups and downs of "Adam." [B]