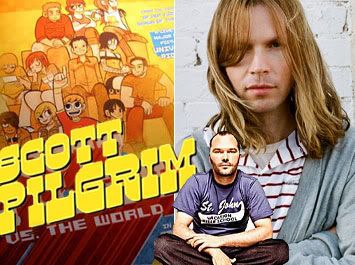 Vulture writers and us were having this "off-list" conversation a few months ago. Who would be the first to "break" "Scott Pilgrim Vs. The World" soundtrack info we knew, but couldn't yet report.

Are we the winner? Something that's been making the rounds that we sure they've heard too and now confirmed via 'Scott Pilgrim' soundtrack producer Nigel Godrich and the NME (not online yet, but a helpful U.K. reader sent us a scan, see below) that Beck will be participating in the music to the film as well (something we've speculated for a while now, but had also heard through various sources, but didn't wanna blow up anyone's spot).

As we've already noted, there are many bands in the 'Scott Pilgrim' graphic novels by Bryan Lee O' Malley, including Sex Bob-Omb (Michael Cera's band), The Clash At Demonhead, (the "evil" band fronted by Brie Larson), Crash & The Boys (a noise band with a child drummer that doesn't really feature super well-known actors) and in the script at least, the evil ex-boyfriend twins, Kyle & Ken Katayanagi attack Pilgrim with a crazy sonic keyboard assault (plus if you wanna get technical, there's Scott's pre-Sex Bob-Omb bands Sonic & Knuckles, Kid Chameleon, but neither is mentioned in the version of the script we read).

So Godrich was tasked with finding real artists to create music for the fiction bands.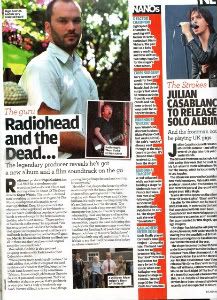 "There are four or five bands in the story. We had to approach real bands to be the bands that appear in the graphic novel...Metric, Broken Social Scene and Beck are in there and they've all recorded original songs for the soundtrack."

Who's doing who? We've got it figured out for you. Clash At Demonhead=Metric. Crash In The Boys: Broken Social Scene. Beck=Sex Bob-Omb. How's that? It's a bit of a guess yes, but Metric and BSS are basically confirmed as writing the music for the other two fictional groups, so basic process of elimination pegs Beck as writing the music for Cera's band. But yes, that's not 100% confirmed, but hey, we've been pretty spot-on here so far. Plus in the comics, Sex Bob-Omb essentially sound like a cross between the twang of Uncle Tupelo and the noise of Sonic Youth, which is arguably a style Beck can easily emulate or already does.

Godrich also says, "And there are real bands in the story that we had to call upon too." What does he mean by that? Bands like Sloan, Spoon, Joel Plaskett, Thrush Hermit, Uncle Tupelo, Be Your Own Pet, Beulah, Neko Case and many other indie groups are featured or mentioned in the graphic novel so presumably Godrich reached out to some of them as well about including their music in the film (here's a detailed post about the music within the 'SP' graphic novels).

NME says Godrich is "scoring" the film, but that tends to be a loose term that is thrown around. Whether Godrich is scoring the film, i.e., writing traditional (or non-traditional if that were the case) instrumental music cues for the film remains to be seen.

"Scott Pilgrim Vs. The World" is being eyed for a summer 2010 release.