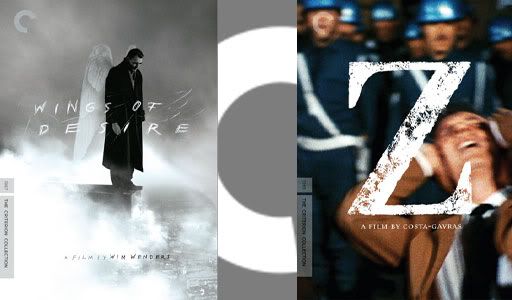 The Criterion Collection has set three new DVD releases for the month of October.

Remember in the '80s when Wim Wenders could seemingly do no wrong? One of these releases is his atmospheric wandering-angel classic, "Wings Of Desire," with the great German actor Bruno Ganz (Oct 20). Criterion calls the film one of the "loveliest city symphonies" and "movie poetry," and you can't argue with that. It's a wonderful film. Let's hope this means they put out "Paris, Texas" on Criterion one day. That 1984 slow-burner deserves its own special treatment too.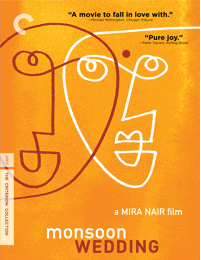 Criterion seems to love the political-charged Greek filmmaker Costa-Gavras having already released, "Missing" and now they'll be releasing, "Z,"another political crime thriller that starred French singing icon, Yves Montand and the great Jean-Louis Trintignant (Oct 27). While it's an interesting picture that races along at times, we wouldn't call it masterpiece (an unpopular opinion we're sure, but it's kinda true). Still, better that more people see it than don't and many disagree with us, it won the Oscar for Best Foreign Language Film in 1970 (Regardless, if and when you see Criterion put out other minor works by directors, say Francois Truffaut's "Mississippi Mermaid," than you really know they need to start looking at more unusual suspects).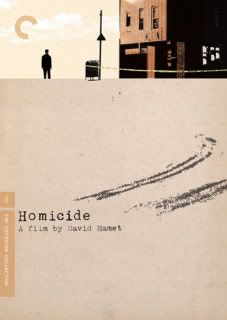 Lastly, the collection will release Mira Nair's widely well-received culture-clashing comedic melodrama, "Monsoon Wedding" from 2001. Update: there's artwork now and it hits Oct 13. Fans of Nair will be happy to hear the disc also includes her short documentaries "So Far from India" (1983), "India Cabaret" (1985), and "The Laughing Club of India" (2001), featuring video introductions by the director herself.

Other additions to Criterion's fall schedule include the release of James Ivory's "Howard's End" with Anthony Hopkins and Emma Thompson (her won an Oscar for this performance) on October 20 and and 18th Eclipse series three-disc collection, this time featuring the work of Yugoslavian director Dušan Makavejev.

September will also bring David Mamet's "Homocide" with Joe Mategna (Sept 8) and Alexander Korda's the Napoleonic-era affair, "That Hamilton Woman" with Laurence Olivier and Vivien Leigh.

Come November we'll be expecting to hear announcements of Steven Soderbergh's two-part epic, "Che" and Guillermo Del Toro's 1993 horror, "Cronos."